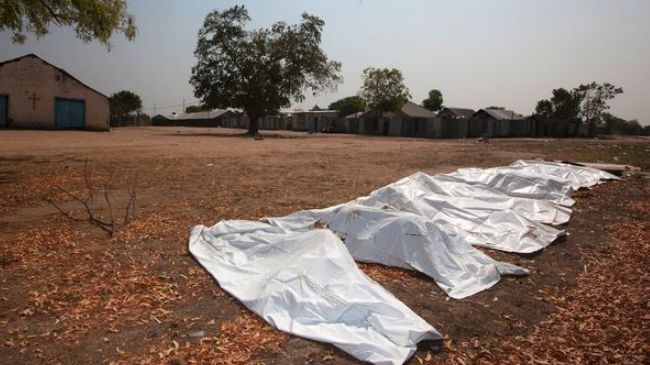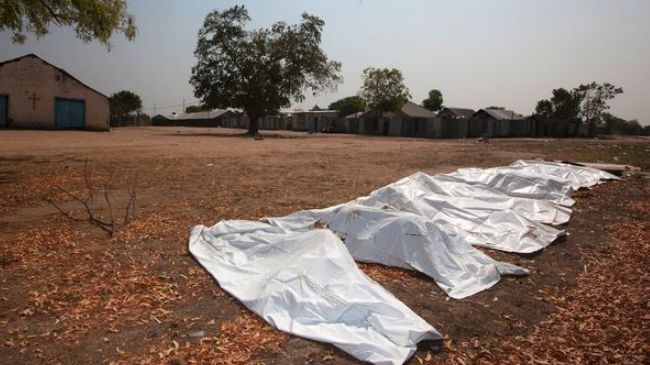 Human Rights Watch (HRW) has demanded a full investigation into "horrendous" atrocities committed during weeks of conflict and ethnic killings in South Sudan.
"Horrendous crimes have been committed here and across South Sudan, including in the capital, Juba, which saw widespread killing," HRW researcher Skye Wheeler said in a report on Thursday.
Wheeler said bodies of women had been placed across a church compound, with "scores of bodies and fresh graves" being in the devastated town of Bor–a location which is frequently taken by rebels and government forces.
"Accountability is crucial for South Sudan to move forward and stop the cycle of violence," urged the HRW report.
"A thorough, impartial investigation, identifying the perpetrators, could help South Sudan break with the past and begin a healing process," it stressed.
Thousands are believed to have been killed in the fighting that erupted in December 2013 between forces loyal to President Salva Kiir and rebels led by his sacked deputy, Riek Machar.
The clashes also pitted president's Dinka tribe against members of Machar's Nuer ethnic group, with members of both ethnicities killed in cold blood in several towns, according to Wheeler's report.
Aid groups say up to 10,000 people have lost their lives in the fighting and more than 700,000 people have been displaced due to the violence. Some 124,000 people have also fled to neighboring countries.
On January 23, the warring sides implemented a ceasefire to end weeks of heavy fighting in the country, but combat has yet to end as reports indicate continued clashes in the world's youngest nation.
South Sudan gained independence in July 2011 after its people overwhelmingly voted in a referendum for a split from the North.