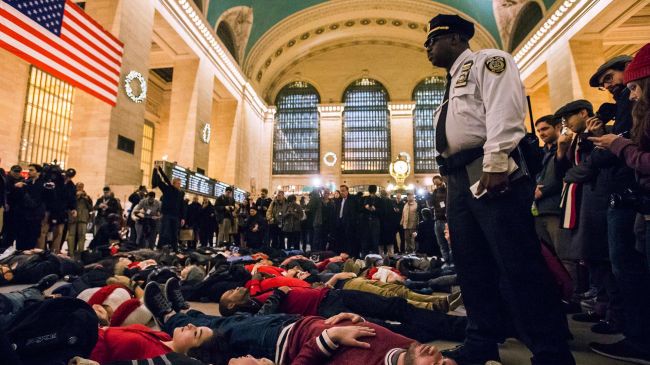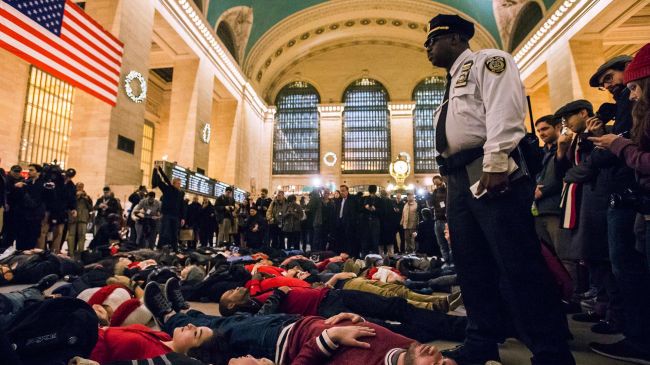 A large number of people have taken to street in the United Sates after a grand jury declined to indict a New York white police officer accused of killing a black man by putting him in an illegal chokehold.
Demonstrations were held in several New York City locations on Wednesday after the Staten Island grand jury cleared white police officer Daniel Pantaleo in the July chokehold death of Eric Garner.
A heavy police presence was seen in the city ahead of protests but there were no immediate reports of arrests.
"They killed him twice today. That's the second time they killed him. Eric Garner — I was sitting there when he died," one man said.
"I'm not surprised. I'm just in shock," a woman said. "I was hoping that I wouldn't be in shock. I was hoping that it would come out in our favor."
"This is a disgrace, a disgrace. The coroner said he contributed to that man's death," another woman said, through tears. "There ain't no justice if we, if you're black. You only get justice if you're white."
Garner, a 43-year-old African American, died after being placed in the chokehold by Pantaleo on Staten Island on July 17.
According to the medical examiner's office, the cause of the death was "compression of neck (chokehold), compression of chest and prone positioning during physical restraint by police."
Garner was suspected of illegally selling cigarettes. The chokehold was captured live on an amateur video. "I can't breathe! I can't breathe!" Garner said repeatedly, his cries muffled into the pavement.
The controversial jury verdict comes two weeks after another jury failed to indict a white officer who fatally shot an unarmed black teen in Ferguson, Missouri.
On November 24, St. Louis County prosecutor Robert McCulloch said that Darren Wilson would not be indicted and that he would not even face charges for killing 18-year-old Michael Brown on August 9 in Ferguson.
Following the decision, violent protests against racial discrimination and police brutality in the United States broke out across the country.