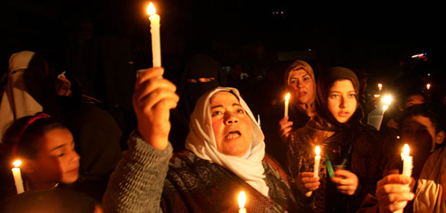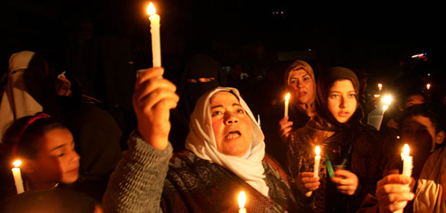 The electricity distribution company in Gaza city has warned Thursday of a possible human catastrophe in the populated Gaza Strip if electricity shortage continued, blaming the Israeli occupation and the Fatah authority in Ramallah for the crises.
Jamal Al-Dardasawi, the public relations officer in the company, explained that the Israeli occupation refused to allow more fuel into the Strip needed to run the electricity generators there, saying that electricity generators currently produce only 25 to 30 megawatts only which is not sufficient for the 1.5 million individuals living there.
He also noted that the Israeli occupation had destroyed the infrastructure of the electricity networks over the past four years, thus making fuel the only hope to continue running the generators.
However, he asserted that the company was and still is doing the best it could to continue electricity supply to the people of Gaza, adding that the company contacted all concerned local and international parties to solve the problem and to avoid a possible human crises in the Strip.
The EU used to supply the company with the needed amount of fuel of 2200 liters weekly but gradually reduced it due to the Israeli siege on the Strip till it reached to the minimum level that created the current crises.
For his part, Kanan Obaid, the chairman of the energy and natural resources authority in the Gaza Strip, accused number of Fatah lawmakers of aggravating the electricity crises in Gaza, charging that those legislators advised Fatah leader Mahmoud Abbas to reduce the share of Gaza of the industrial fuel from 13 million dollars to three million only, stressing that he possesses the documents to substantiate his claims.
According to medical sources in the Strip, There are thousands of sick Palestinian citizens, hundreds of them suffer chronic diseases, lying in hospitals and private clinics and their lives depend on electricity-run medical equipment.