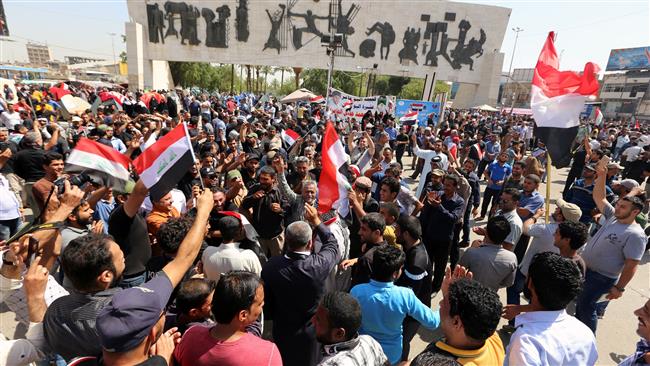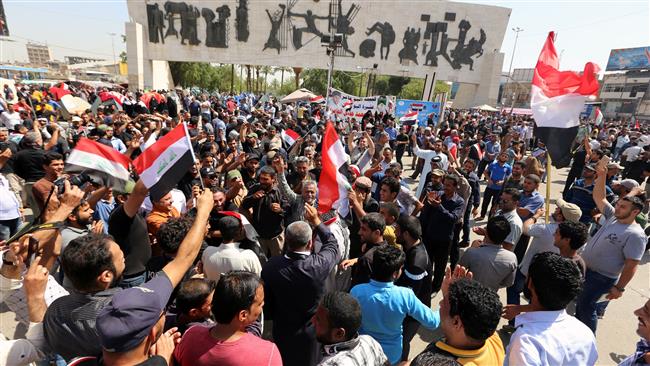 Baghdad has become the scene of a fresh round of sit-in protest as people become increasingly irked with the Iraqi government's inability to carry reforms through.
Several hundred people took part in a renewed sit-in in central Baghdad on Sunday, demanding accelerated efforts for setting-up a reform-minded government and a halt to the current system of patronage in Iraq's politics.
"Yes, yes to Iraq; no, no to corruption," the protesters chanted, saying the sit-in in Tahrir square is meant to "end the political quotas," in Iraq.
Reports said people encircled the buildings of several ministries, demanding their heads to resign. Iraqi president Fuad al-Masum also called on heads of three branches of the government to convene a meeting to seek a way out of the current political standstill.
The protest comes two weeks after influential Shia cleric Muqtada al-Sadr ended a previous sit-down outside Baghdad's heavily-fortified Green Zone after Prime Minister Haider al-Abadi presented a new cabinet line-up to parliament.
However Abadi's bid to replace the cabinet of party-affiliated ministers with a government of technocrats has met heavy resistance in the legislature, with dominant parties still wanting affiliated figures as ministers to maintain their grip on power and wealth in Iraq.
"We are demonstrating on our own initiative in support of Sayyid Moqtada," said a protester inside his tent.
"Our demands are for reform aimed at securing our future and the future of our children," said another one.
Security was tight around Tahrir as streets were closed, causing major traffic jams in the area.
Iraq has seen a major shrink in its finances as a result of global slump in oil prices while the country is in the midst of a large-scale battle against Daesh, a Takfiri group which controls territories in west and north. That has apparently affected the daily life of Iraqis, making corruption a major issue in light of the current political wrangling. Iraq ranks 161st among 168 countries on Transparency International's Corruption Perceptions Index.
On March 31, the parliament in Iraq rejected an initial list presented by Abadi, which mainly included independent professionals. The Iraqi premier then replaced most of his nominees with those proposed by political blocs. That sparked protests and clashes in the parliament with voting on government reshuffle postponed three times.
Some lawmakers also held a vote to remove speaker Salim al-Jabouri, overshadowing the cabinet issue. Jabouri called the move invalid, saying the session at which MPs voted to sack him lacked a quorum. Another vote was held on Saturday to pick a replacement for Jabouri and his deputies, but lawmakers from the Badr bloc shunned the session.