Middle East
Syria
Turkey
Hundreds of Drones, Military Equipment Sent to Tahrir Al-Sham in Northern Syria, 13,000 Terrorists Deployed in Hama, Lattakia
Tahrir al-Sham al-Hay'at (the Levant Liberation Board or the Al-Nusra Front) has reinforced its military positions in the demilitarized zone in Idlib and its militants have been equipped with advanced weapons and military equipment despite Ankara's claims about implementing Sochi Agreement.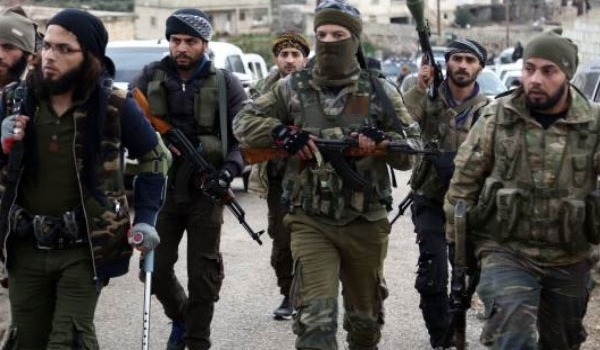 The Arabic-language Sputnik New Agency quoted informed sources in the city of Jisr al-Shoghour in Western Idlib as saying that Tahrir al-Sham terrorists have recently received state-of-the-art weapons and military equipment, including modern anti-tank missiles, communications and electronic jamming equipment as well as 200 drones.
The sources pointed to the dispatch of drones to the headquarters of Turkistani Pary in the town of al-Janoudieh in Jisr al-Shoghour, and said that Turkish and Belgian engineers are equipping the dispatched drones.
They also pointed to a meeting between Tahrir al-Sham and Turkistani Party commanders in Jisr al-Shoghour city with the aim of reinforcing their military positions and maintaining the areas under their control in Northwestern Hama and Northeastern Lattakia, and said the Turkistani Party in recent weeks has sent Chinese militants to Sahl al-Ghab battlefronts in Northwestern Hama and Kabani in Northeastern Lattakia in a bid to prevent the Syrian Army's possible advances there.
Meantime, about 13,000 foreign terrorists are stationed in Sahl al-Ghab and the countryside of Jisr al-Shoghour and Lattakia to guard the areas controlled by the Ankara-backed Turkistani Party.
In a relevant development in late September, the Syrian Army during its mop-up operations discovered terrorists' underground base packed with US- and NATO-based weapons and missiles in Southern Idlib.
The Arabic-language Sputnik news agency quoted a Syrian military source as saying that the Syrian Army troops discovered an underground military network of bases in al-Latameneh region which contained a main base for the deployment of about 5,000 terrorists.
It pointed to the terrorists' attempts to launch attacks on the Syrian Army over the past four years by using foreign military equipment, and said that the government forces discovered US-made missiles, weapons and rifles made in NATO member countries.
The Syrian military sources also said that the Syrian Army also discovered a workshop used for manufacturing drones and also found several drones equipped with bombs for attacking the Syrian Army's military units.