Syria
Hundreds of Popular Forces Accompanying Syrian Army in War on ISIL in Badiyeh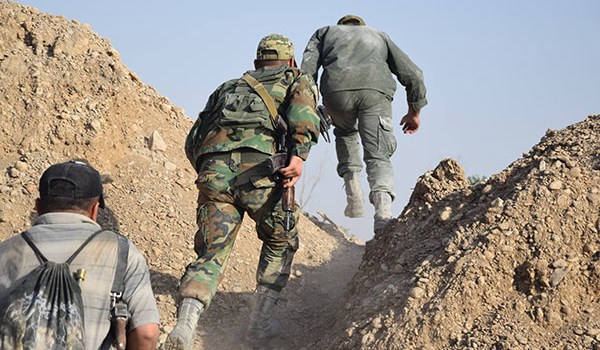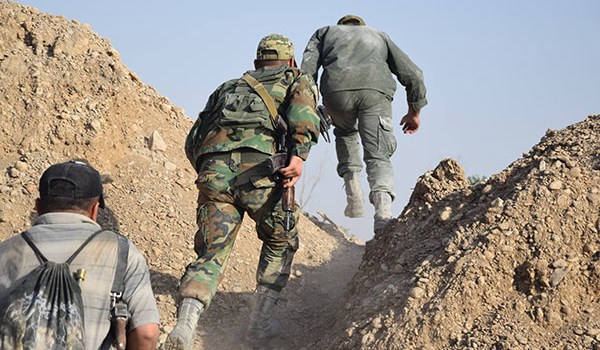 Almost 700 tribal volunteer forces have joined the Syrian Army troops in battle against ISIL in Badiyeh desert in Eastern Hama and Homs, a military source disclosed on Wednesday.
The source said that a growing number of tribal forces have joined the army in Syria's Badiyeh in recent weeks.
The source further said that over 350 tribal forces are fighting against ISIL along with the army in Ithriya region in the Eastern direction of the town of al-Salamiyah, adding that the tribal forces have played an effective role in laying siege on ISIL in a region between Ithriya in Hama and Mount al-Sha'er in Homs.
He went on to say that over 250 tribal fighters and the National Defense Forces joined the army soldiers in Syria's Badiyeh at the beginning of this week, while another two groups with 100 fighters participated in clashes in Badiyeh and al-Sukhnah region. The operation is aimed at removing the siege on Deir Ezzur
The tribal fighters' partnership in the war on ISIL in Badiyeh is of significant importance because the tribal forces have good geographical knowledge of the region, meantime, they can bear well bad weather conditions of Badiyeh.
A military source confirmed on Saturday that the army continued to advance against ISIL in the provinces of Raqqa, Hama and Homs and completed the siege on the terrorists in the Central part of the war-hit country.
The source reported that ISIL-held regions covering almost 3,000sq/km of area in Homs and Hama province came under a full siege imposed by the army forces.
The source further added that the army men managed to advance against ISIL South of the town of Ithriya Northeast of Hama and reached their comrades that stormed ISIL's defense line from their positions North of al-Sha'er region in Eastern Homs and advanced towards Jabal al-Fasedah region in Eastern Hama.
The source went on to say that the army soldier gained control over all the roads in the Eastern direction of the town of al-Salamiyah in Hama province, adding that ISIL withdrew a large number of its forces before the army gained control over the roads.
The source further said that most of the remaining pockets of ISIL terrorists in Aqayrabat region in Hama province were suicide attackers that were in their positions to carry out suicide raids on the government forces to delay the fall of the town of Aqayrabat to the army.
The ISIL terrorists are trapped in the circle of the army forces in Aqayrabat, one of their main strategic bastions in Hama, after they lost the town of al-Sukhnah in Eastern Homs to the army men.