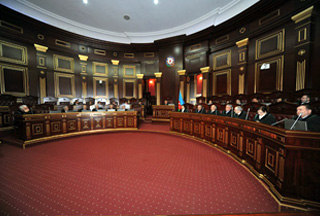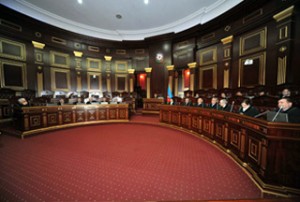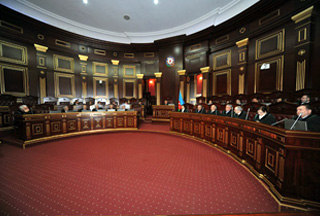 Azerbaijan's Supreme Court has postponed a ruling on whether the closure of a mosque in Baku should proceed, as hundreds of protesters gathered outside the court.
Amid tight security, hundreds of people gathered outside the court on Wednesday, to condemn the Baku government's policy of closing and demolishing mosques.
The Supreme Court was expected to issue a ruling on the Fatima Zahra mosque's case, but it postponed the decision until April 28, the Islamic Republic of Iran Broadcasting (IRIB) reported.
In August 2009 a court ruled that the Fatima Zahra mosque in Baku's Yeni Guneshli district lacked proper documents and registration.
An appeals court upheld the decision in November 2009, prompting the mosque officials to file an appeal with the Supreme Court, which reviewed the case on April 14.
"We legally purchased the land in 1996 and started the mosque's construction work in 1998," Tofig Razizade, leader of the Fatima Zahra mosque community, told IRIB.
"We were registered in 1995 and re-registered in 1997," he added.
Last year, Azerbaijanis held two massive demonstrations outside the Baku mayor's office, and the Fatima Zahra mosque, demanding the ruling be overturned.