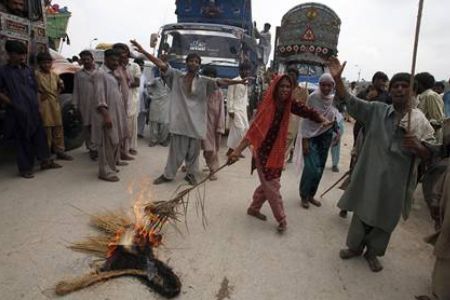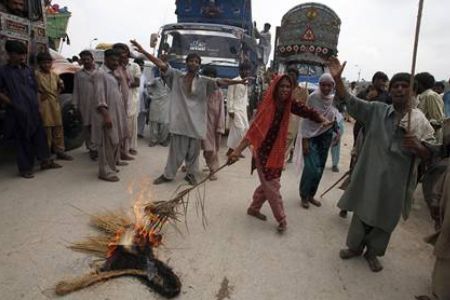 Hungry Pakistani protesters in Punjab and Sindh provinces have voiced their anger over their dire conditions after two weeks of devastating floods.
Refugees in the Kot Addu area of central Punjab on Monday protested the government's tardiness in delivery of relief, saying they were getting no relief goods and shouting "We need help."
On Sunday, hundreds of villagers in Punjab province burnt tires and chanted "down with the government."
Meanwhile, protesters in Sukkur, in Sindh province, on Monday, blocked a highway outside the town and denounced official lethargy. They burned straw and waved sticks and demanded urgent help from the government, DPA reported.
Aid workers and officials say they are struggling to provide relief to the 20 million victims, including 6 million children, but the process has been slow due to bad weather and destroyed roads and bridges.
In the meantime, the country's Federal Flood Commission announced on Monday that the Indus River in Guddu-Sukkur region was likely to sustain "exceptionally high flood levels" during the next two to three days.
This would result in flooding in low-lying areas of Khairpur, Jacobabad, Ghotki, Sukkur, Larkana, Benazirabad, Hyderabad and Naushero Feroze districts.