Europe
Hungry PM renews autonomy call for ethnic Hungarians in Ukraine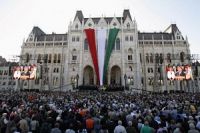 Hungarian Prime Minister Viktor Orban has renewed a plea for ethnic Hungarians in neighboring Ukraine to be granted autonomy even after a similar call last week drew a diplomatic backlash.
According to Reuters, Orban said on public television late on Friday, "Ukraine can be neither stable, nor democratic if it does not give its minorities, including Hungarians, their due, that is, dual (Hungarian) citizenship, collective rights and autonomy."
Orban, re-elected in a landslide win last month, was reaffirming a call for autonomy for about 200,000 ethnic Hungarians in western Ukraine that he made a week ago as he was sworn in as prime minister.
His comments prompted Kiev to summon the Hungarian ambassador for an explanation on Tuesday and drew criticism from regional heavyweight Poland, an ally of Hungary within the Visegrad Four grouping of central European nations.