Palestine
Hypocritical Mideast states serving Israel's interests: Larijani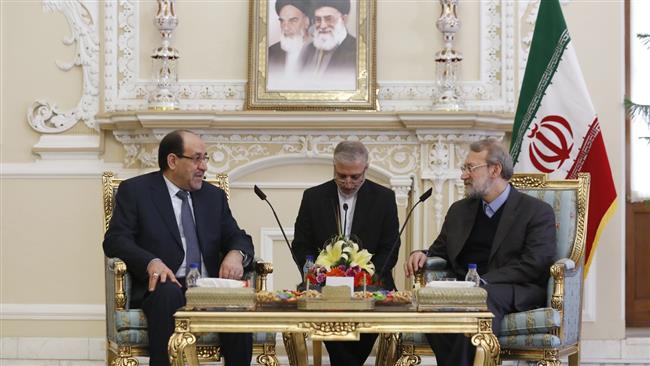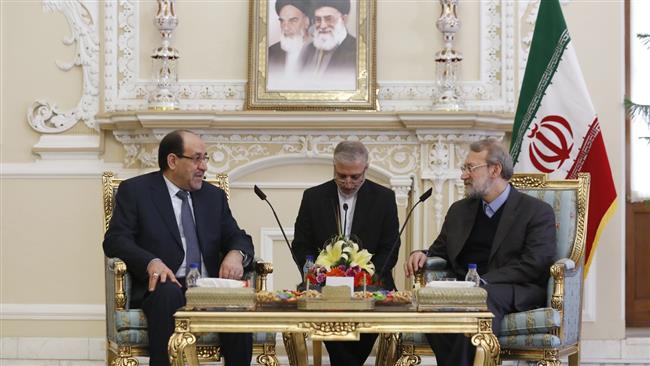 Iranian Parliament Speaker Ali Larijani has lashed out at some regional countries that created and are fueling the crises in the Middle East, saying such hypocritical states are serving the Israeli regime's interests.
"The crises created in the region revealed the hypocritical face of some regional countries and showed that their policy is in line with helping terrorism and serving the interests of the Zionist regime (of Israel)," Larijani said in a meeting with Iraqi Vice President Nouri al-Maliki in Tehran on Tuesday.
He added that national unity among various political groups in Iraq played a leading role in the country's recent victories against terrorism.
Larijani hailed the recent achievements of the Iraqi armed forces and fighters of Popular Mobilization Units (PMU), also known as Hashd al-Sha'abi, in the battle against terrorism in the northern city of Mosul.
On October 17, Iraqi army soldiers, supported by Hashd al-Sha'abi and Kurdish Peshmerga forces, launched a joint operation to retake Mosul from Daesh terrorists.
After a two-week lull, Iraqi troops launched the second phase of a major operation to retake Mosul on December 29, pushing deeper into the eastern of the city in a multi-pronged assault.
Staff Lieutenant General Abdulwahab al-Saadi, a top commander in Iraq's Counter-Terrorism Service (CTS), said on Sunday that the government forces continue to make advances in their joint operations with pro-government fighters to liberate Mosul from the grip of Daesh terrorists and managed to establish control over more than 60 percent of the eastern side of the strategic northern city.
Larijani also said the Iraqi parliament's approval of a law to give full legal status to fighters from the PMU has created new capacities, which can contribute to the establishment of stability and help the fight against terrorism.
He added that the Iranian Parliament "supports any move in line with the restoration of stability and security in Iraq."
Iraq's Council of Representatives on November 26, 2016 voted in support of a legislation which recognizes Hashd al-Sha'abi as part of the national armed forces, places the volunteer fighters under the command of Prime Minister Haider al-Abadi, and grants them the right to receive salaries and pensions just like the regular army and police.
'Iran supports genuine fight against terror'
The Iraqi vice president, for his part, hailed Iran's principled stance on regional issues, particularly the crises in Iraq and Syria.
Maliki added that the Islamic Republic's policies have always been based on support for resistance and a real fight against terrorism.
He said enhanced cooperation between Iran and Iraq in economic, political and security sectors can lead to the settlement of regional issues.
The former Iraqi prime minister also criticized some countries' stances on the ongoing developments in the Middle East and said all plots hatched by Turkey and Saudi Arabia to partition Iraq and Syria have been thwarted.
Maliki arrived in Tehran on Saturday to hold talks with senior Iranian officials. He met with Ali Akbar Velayati, a senior adviser to Leader of the Islamic Ummah and Oppressed People Sayyed Imam Ali Khamenei, and Secretary of Iran's Supreme National Security Council Ali Shamkhani earlier on Tuesday.