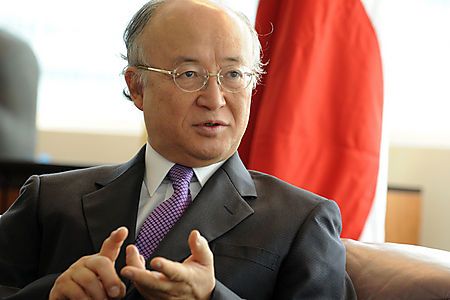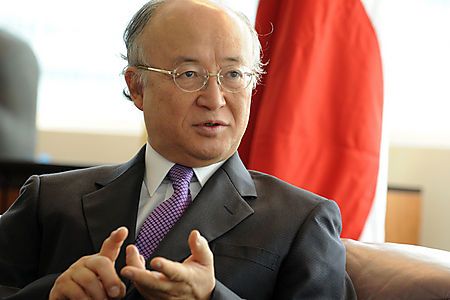 The International Atomic Energy Agency director general, Yukiya Amano, is due to release a new report about Iran's nuclear activities this week, an informed diplomat says.
"Amano's confidential report will be released to the members of the agency for examination," a Vienna-based diplomat told IRNA on condition of anonymity on Monday.
"This report will probably be presented tomorrow (Tuesday)," the source added.
Iran has criticized the IAEA chief over what it has described as partial approach toward Tehran's nuclear program.
In his February 18 report on Tehran, which was released amid a US campaign to win international support for adopting sanctions against the country, Amano claimed that the IAEA had "concerns about the possible existence in Iran of past or current undisclosed activities that could enable the Iranian military to develop a nuclear bomb."
Accusing Iran of developing a military nuclear program, the US pressured the UN Security Council to impose a fourth round of sanctions against the Islamic Republic's financial and military sectors in June.
The controversial February report came while the agency in its previous reports had confirmed the non-diversion of Iran's nuclear program.
Earlier in September, Amano released another report in which he confirmed the "non-diversion of declared nuclear material in Iran" but went on to urge Tehran to "cooperate in clarifying outstanding issues," and also to "act strictly in accordance with the provisions of, and to ratify promptly, the Additional Protocol."
Reacting to the report, Head of Iran's Atomic Energy Organization Ali Akbar Salehi warned the IAEA chief of the consequences of his partiality, saying, "Mr. Amano should be careful not to lose his legitimacy due to his partiality in favor of certain politics."
Salehi went further to speculate whether the IAEA chief was looking for a pretext against Iran to launch an attack. "Does Mr. Amano want to associate his name with a war?" he asked.
Iran, however, was not alone in its criticism of Amano's approach. In a strongly-worded statement, the representatives of the Non-Aligned Movement (NAM) at the IAEA supported Iran's position on the contentious issue of IAEA inspectors.
NAM members stressed that Iran had a legal right to object to certain inspectors, adding that the country did not have to "justify" its opposition.
In June, Iran barred two UN inspectors from entering the country, accusing them of filing a false report about Tehran's nuclear program and leaking information regarding the country's atomic work.
Amano claimed that Tehran's objections to the inspectors would "hamper the inspection process."
NAM also expressed concern regarding the most recent IAEA report on Iran, saying in a statement read during the IAEA board of governors meeting that the report has "departed from standard verification language."