Middle East
North America
Saudi Arabia
Idiot Trump under fire for attempting to defend bloody hand Saudi after deadly shooting
US President Donald Trump has been under fire for attempting to defend the Saudi government following a deadly shooting on Friday by a Saudi Air Force officer at a naval base in Florida.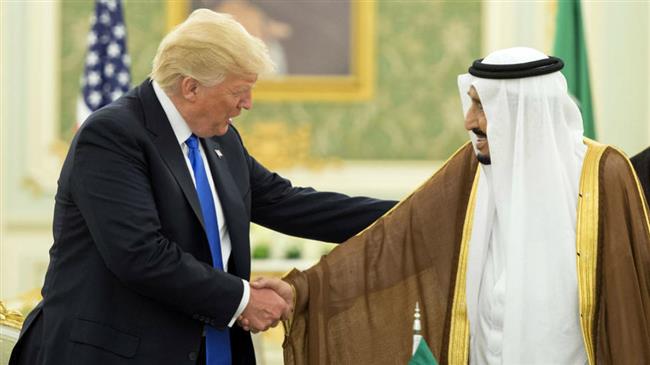 The suspect — Mohammed Saeed Alshamrani, whom the FBI has officially identified as a Saudi Royal Air Force second lieutenant – killed three people and injured several others on Friday at Naval Air Station Pensacola before he was killed by local law enforcement.
Following the deadly shooting, Trump's Republican allies condemned the attack as an act of terrorism, and called for a halt to the training program that admitted the shooter and called on the Saudi government to cooperate in the investigation, The Washington Post reported on Monday.
But Trump used his appearances before television cameras and on social media to repeatedly offer cover for the Saudis.
"They are devastated in Saudi Arabia," Trump told reporters Saturday. "And the king will be involved in taking care of families and loved ones. He feels very strongly. He's very, very devastated by what happened and what took place. Likewise, the crown prince. They are devastated by what took place in Pensacola."
Trump attempted to protect the Saudi government from scrutiny, but his position became steadily more isolated over the weekend as more information trickled out about the gunman and other Saudi nationals who were receiving training at the base.
Unlike Trump, the FBI on Sunday called the shooting terrorism and launched an investigation.
"We are, as we do in most active-shooter investigations, working with the presumption that this was an act of terrorism," said Rachel Rojas, special agent in charge of the FBI's Jacksonville division.
And Rep. Matt Gaetz (R-Fla.), who is considered a staunch Trump ally, also distanced himself from the president on the issue. He called the killing an act of terrorism, and suggested the deadly incident should change America's relationship with Saudi Arabia.
"Of course, what happened in Pensacola has to inform on our ongoing relationship with Saudi Arabia," Gaetz told ABC News.
Saudi air force officer kills three at US naval base in FloridaThe gunman who killed three people at a US naval base in Pensacola, Florida, is a Saudi air force officer, according to US officials.
Florida Sen. Rick Scott (R) called for a halt in the military program that brings hundreds of foreign nationals to American bases to train alongside US troops.
Scott urged on the Saudi government to provide more support for the investigation.
"The Saudi government has got to step up and say there will be full cooperation, they will make sure every student sits down with the FBI and gives up all the information so that we know exactly what happened here," Scott said. "It's disgusting this happened."
Florida Gov. Ron DeSantis (R) stated Friday that the Saudi government would owe a debt because of the deadly shooting.
Gaetz said he told Saudi Ambassador Reema bint Bandar that the United States does not want Saudi Arabia interfering in the case but expects its full cooperation should investigators need it.
"There are Saudis that are currently with us that are being investigated, and I made the point, as clearly as I possibly could, that we want no interference from the Kingdom as it relates to Saudis that we have," he told ABC News."And if there are Saudis that we do not have — that may have been involved in any way in the planning, inspiration, execution, or finance of this — that we expect Saudi intelligence to work with our government."
Saudi Arabia 'most obsequious' regime ever in kowtowing to US: ScholarAn American scholar suggests the Florida naval base shooting might be a retaliatory attack in response to US-Saudi atrocities in the Middle East and beyond.
Hours after the incident, Trump announced that Saudi King Salman had personally called him and then began reading a statement conveying the "sincere condolences" of the Saudi king.
"The king said that the Saudi people are greatly angered by the barbaric actions of the shooter and that this person, in no way, shape or form represents the feelings of the Saudi people who love the American people so much," Trump said, repeating language posted to his Twitter account around the same time.