General
Middle East
Syria
Idlib: Most Important Belarus Commander, Trainer of Tahrir Al-Sham's Elite Forces Killed by Syrian Army
The most important commander of Tahrir al-Sham al-Hay'at (the Levant Liberation Board or the Al-Nusra Front) in charge of training special and elite terrorists was killed in the Syrian Army's military operations, media reports said Saturday.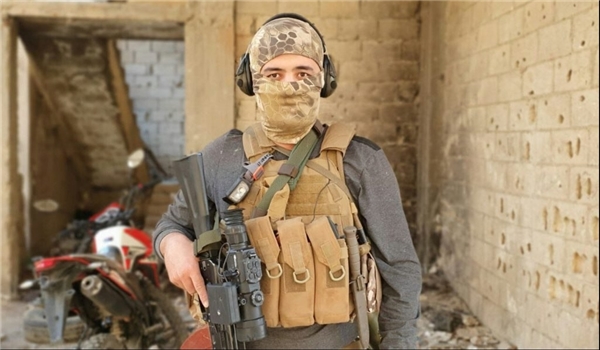 Pro-militant social media reports quoted sources close to terrorist groups in Northern Syria as saying that the Tahrir al-Sham's Belarus commander Abu Soleiman, nom de guerre Abu Rafiq, was killed in clashes with the Syrian Army in Southern Idlib.
They said that Abu Soleiman was commander of Jihad Blackwater affiliated to Tahrir al-Sham who was responsible for training Tahir al-Sham's elite militants known as 'Red Napkins'.
The sources reiterated that he has been member of Belarus elite parachute unit before travelling to Syria.
Tahrir al-Sham's Jihad Blackwater is also responsible for intelligence, spying, security and military activities of terrorists in Northern Syria.
The Syrian Army has kept up the momentum of its offensive advances in the Northern province of Idlib since Thursday, and expanded its rule to the regions only 3 kilometers away from the strategic city of Khan Sheikhoun.
The Syrian Army troops, backed by artillery and missile fire, continued their clashes with Tahrir al-Sham terrorists on al-Hobait Road to the West of Khan Sheikhoun in Southern Idlib and captured the towns of Um Zeitouneh, Kharbeh Morshed and al-Mantar.
Army officers said government troops have expanded their presence to areas only three kilometers to Khan Sheikhoun from the West, and said are advancing towards al-Salam Station at the gates of the strategic city.
They pointed to the strategic importance of Khan Sheikhoun, and reminded that the city that links Eastern Idlib to the Western and Northern parts of the province is seen as the gate to the capture of Idlib city.
"Once, Khan Sheikhoun is captured, the grounds will be paved for the Syrian army to reopen the crucial Aleppo-Damascus road and further advance towards other strategic regions, including al-Tah, Kafar Sajneh and Ma'aret al-Numan," they stated.