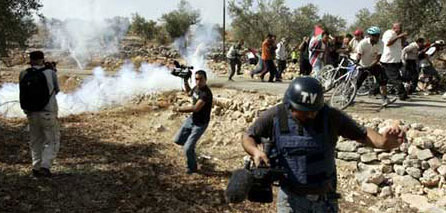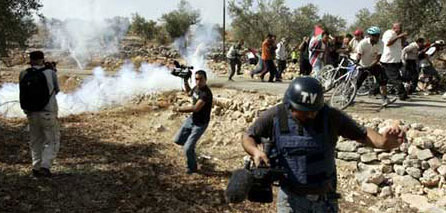 The International Federation of Journalists (IFJ) called on the Israeli occupation to investigate acts of violence committed by its occupation forces in the West Bank during their attack last week against a group of Palestinian journalists who were covering demonstrations in the region for three worldwide news agencies.
A statement issued by the federation's headquarters in Brussels quoted IFJ President Jim Boumelha as saying: "We are deeply concerned by attempts to justify attacks on journalists on their presence near the events they are reporting on."
He added: "This would be a dangerous departure from established practice under international humanitarian law which enshrines the protection of journalists in conflict areas."
The statement notes that three photojournalists were attacked by Israeli forces last Saturday while covering a demonstration in the town of Beit Ummar near Al-Khalil.
The photographers are: Hazem Bader from the French news agency AFP, Reuters Abdul Rahim Qusini, and Associated Press Abdul Hafiz Hashlamoun. One of them said he was beaten with sticks and another lost his hearing after a bomb exploded near him.
The IFJ said the "attacks on local journalists have become a routine in the occupied Palestinian territories…and the government in Israel, as the occupying power, must live up to its international obligation and stop tolerating attacks by its security forces against journalists."