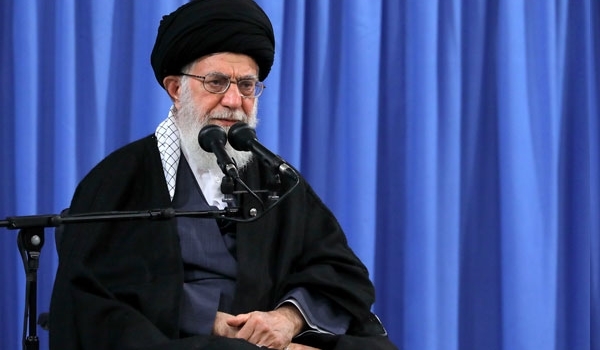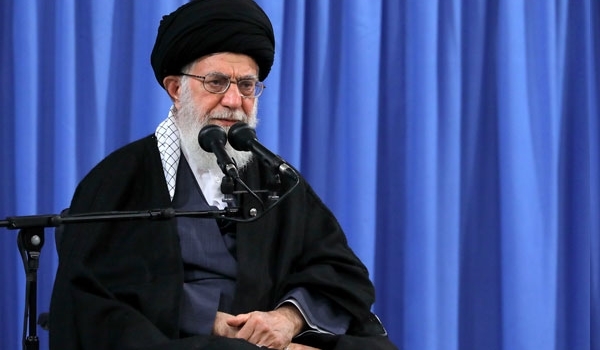 Supreme Leader of the Islamic Ummah and Oppressed People Seyyed Imam Ali Khamenei blasted the world powers which oppose Iran's missile power, and stressed once again that Tehran would not allow others to intrude in its missile and defense programs.
"This issue is none of your (enemies') business. You (the enemies) want the Iranian nation not to have missiles and other defensive possibilities so that you bully it," Supreme Leader said in Tehran on Sunday, addressing a large number of Iranian people from East Azarbaijan province.
Leader of the Islamic Ummah and Oppressed People Seyyed Imam Ali Khamenei underlined that production and modernization of all the tools and equipment needed by the country today and tomorrow should be prioritized, and said, "Without even a single moment of doubt, the country should move towards anything that it needs to defend itself even if the world opposes."
"Of course, we have placed a religious ban on things like nuclear bombs and WMDs but we powerfully pursue any (other) thing that we need," Supreme Leader said.
"We are aware of the enemies' open and secret threats, words and plots but we stress without any moment of doubt that the Islamic Republic which relies on people will become more powerful day by day," Supreme Leader added.
Leader of the Islamic Ummah and Oppressed People Seyyed Imam Ali Khamenei also recited a sentence by the late founder of the Islamic Revolution, Imam Khomeini, and said, "The US can do no damn thing."
In relevant remarks on Thursday, Iranian Foreign Ministry Spokesman Bahram Qassemi blasted recent remarks by French President Emmanuel Macron about Tehran's missile program as biased and unrealistic, saying that a glance through the history displays his nation is justified to think of reinvigorating its defensive might.
"The Islamic Republic of Iran wants establishment and consolidation of peace and security in neighboring states and the sensitive and inflamed Middle-East region and makes its utmost efforts to fight against security threats and destabilizing acts of the terrorist groups based on its stable principle of strengthening stability and security for itself and the entire region," Qassemi said.
He stressed that Iran's assistance in the fight against the ISIL and other Takfiri terrorist groups was at the demand of certain governments and in cooperation with other regional states, and said, "The recent remarks by the French president are based on a biased and unrealistic view of the regional developments. Such a partial approach will not help improve the situation."
Qassemi underscored that Iran expects France to adopt an independent approach and have a realistic understanding of the regional and global developments, and added, "Iran's missile capabilities are within the framework of its military doctrine and defensive and deterrent policies."
He described the real threat as the US and certain European countries' sales of complicated and advanced weapons to certain regional states which lead to more insecurity and instability in the region.
Qassemi underlined that Iran which has experienced the Iraqi-imposed war in the 1980s by former dictator Saddam Hussein who was helped by certain European states, will not allow others to speak or take measure to weaken its defense and deterrence power.
He called on the countries which voice concern about Iran's defense power to refrain from exporting different WMDs and other weapons to the regional states, adding that the real threat is supporting the countries which advocate terrorism and weapons sales to them.
"The Islamic Republic of Iran has initiated security arrangements since several years ago in cooperation with the Persian Gulf region countries with the aim of establishing stability and security within the framework of cooperation of all the regional states and considers as unacceptable the fabricated and imaginary concerns of the trans-regional states about its defensive capabilities," Qassemi underlined.