Syria
Implementation of Homs Agreement Continues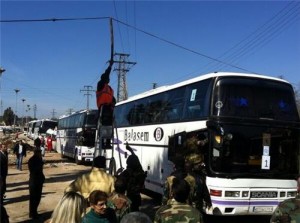 The implementation of Homs agreement continued Homs Thursday as hundreds of militants withdrew from the Old City to the northern countryside, along with releasing around 70 abductees who had been kidnapped by the terrorist groups.
The Syrian army will not enter any area in the Old City before the departure of all the militants and the removal of all the landmines.
In accordance with the agreement, the aid convoy moved to the two besieged towns of Nubbul and al-Zahraa in Aleppo in coordination with the United Nations teams.