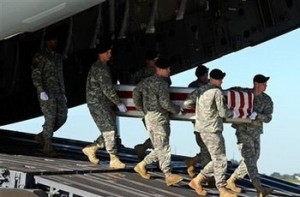 A bomb explosion has killed two more US-led soldiers in southern Afghanistan amid the escalation of violence in the war-torn country.
NATO announced the casualties on Wednesday, but did not disclose the nationality of the deceased soldiers.
The deaths bring the number of NATO soldiers killed this year in Afghanistan to 266.
Five US-led soldiers were killed in Afghanistan on Tuesday.
The militants have increased their attacks on the NATO forces in retaliation to the alliance's plans to launch another attack against the Taliban, reported a Press TV correspondent in Afghanistan.
Last week was the deadliest for NATO forces in Afghanistan, with 30 soldiers killed.
There are a total of 130,000 foreign troops based in the war-torn country. The US has plans to deploy 30,000 extra troops by August.
Despite the presence of nearly 130,000 US-led soldiers in the country, civilians continue to pay the price for the 2001 invasion that sought to dismantle Taliban militants.
The US-led invasion was launched with the official objective of curbing militancy and bringing peace and stability to the war-ravaged country. Nine years on, however, Afghanistan remains unstable.