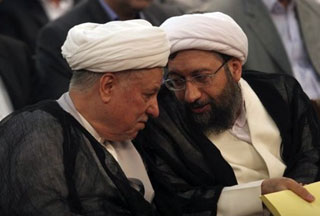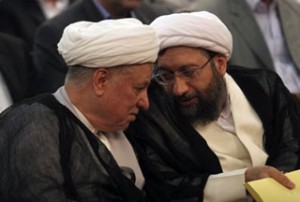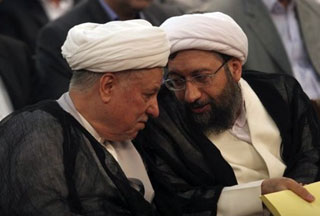 As Iran's mass trials of detainees of the post-election turmoil draw mixed reactions, influential cleric Ayatollah Akbar Hashemi Rafsanjani warns against consequences of "unjust" judicial decisions.
Speaking at the inauguration ceremony for the newly-appointed Judiciary Chief Sadeq Larijani, Ayatollah Rafsanjani cited delivering fair verdicts as the primary responsibility of the judicial system.
"In case of delivering fair verdicts, the society will have a sense of security and no one will feel helpless in asserting his violated rights," said the head of the Assembly of Experts.
Hashemi-Rafsanjani warned that if the nation feels troubled by the judicial treatment of detainees "the society will descent into chaos."
He called for the fair treatment of defendants, explaining that the measure is the way forward to building trust among the nation.
The remarks were made as the Iranian authorities conducted mass trials of nearly 200 post-vote detainees, convicting them of conspiring with foreign powers to stage a "velvet coup d'etat" using terrorism, subversion and a mass campaign to undermine the June 12 presidential election.
Many of those in court in Tehran were prominent Reformists allied with leading opposition figures, Mir-Hossein Mousavi and Mehdi Karroubi, who maintain that the election was "stolen."
The opposition has so far refused to acknowledge the presidency of Mahmoud Ahmadinejad, further arguing that the detainees' confessions made at court had been forced.
The opposition and their supporters have condemned the trials as a "sham" staged by supporters of the incumbent president.
In recent remarks, senior cleric Grand Ayatollah Ali al-Sistani described the ongoing post-vote trials in Iran as "a blot on the Islamic judicial system."
The newly-appointed judiciary chief Sadeq Larijani, who spoke after Ayatollah Rafsanjani's address on Sunday, admitted to various deficiencies in the judicial system, adding that he will prioritize his tasks to deal with the cited shortages.
"We're all responsible for the enhancement of the system…no one should dare act against the law and violate the rights of the nation," said Ayatollah Larijani.
He made a pledge not to show mercy to those who violate people's rights, vowing to "subject the wrongdoers to the court of law."