Africa
In Khartoum, Sudanese anti-coup protesters are met with tear gas
Sudanese security forces in the capital Khartoum have fired tear gas at a huge crowd of anti-coup protesters demanding government transition to civilian rule.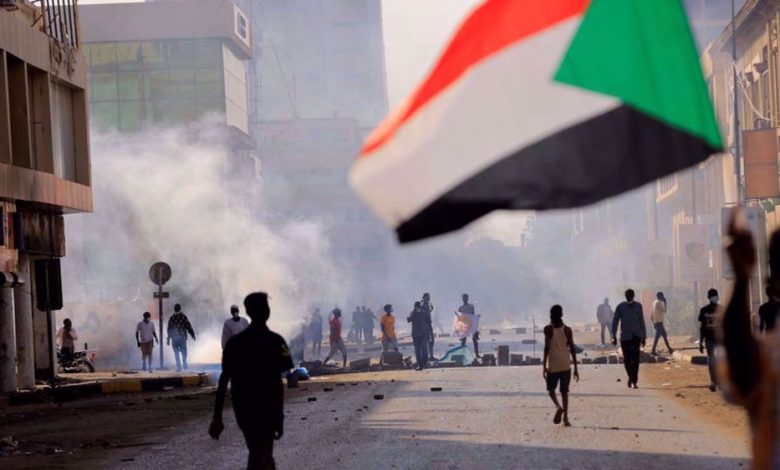 Thousands of protesters marched on the presidential palace on Sunday, as they waved flags and chanted slogans against the junta chief Abdel Fattah al-Burhan and military-dominated administration despite a heavy deployment of security forces.
The protesters are against the October military coup and want soldiers to "go back to the barracks."
Earlier, security forces blocked bridges connecting the capital to suburbs, cut phone lines and restricted internet ahead of the planned protests.
According to witnesses, there were also protest rallies in Madani, a town nearly 85 miles southeast of Khartoum.
Khartoum's state governor warned that security forces "will deal with those who break the law and create chaos." He said "approaching or attacking buildings of strategic sovereignty is punishable by law."
Meanwhile, Volker Perthes, the UN special envoy to Sudan, urged the authorities to "protect" the protests and not stop them. "Freedom of expression is a human right" Perthes said. "No one should be arrested for his or her intention to protest peacefully."
The Central Committee of Sudanese Doctors called on the international community to "monitor what happens in Sudan on the issue of the revolutionary movement for freedom and democracy."
More than two years ago, massive anti-government demonstrations hit Sudan, mostly over economy. The protesters, youths for a large part, demanded the resignation of then President Omar al-Bashir.
Bashir was ultimately deposed through a military coup in April 2019, after ruling over the country for three decades. In August the same year, a transitional civilian-military administration was founded to run the country.
However, a military coup, led by Sudan's military chief and de facto leader, Burhan, was staged on October 25 that dissolved the fragile government. Prime Minister Abdalla Hamdok was detained and put under house arrest in a move that infuriated the Sudanese and sparked international outcry, including from the UN Security Council. Other civilian leaders were also held in military detention. The ensuing crackdown against anti-coup protesters has left at least 45 people dead and hundreds wounded.
Hamdok was later released and on November 21 signed a power-sharing deal with the Burhan-led junta, according to which Hamdok would continue his career as prime minister, all political prisoners detained during the coup will be released, and a 2019 constitutional declaration would be the basis for a political transition. According to the deal, July 2023 has been set as the date for Sudan's first free elections since 1986.
The Sudanese Professionals Association (SPA), however, has completely rejected the deal, lambasting it as being "treacherous." Pro-democracy SPA is an umbrella of 17 different unions that were instrumental in the months-long demonstrations that led to the ouster of Bashir.
Hamdok has so far defended the deal, saying he partnered with the military in an attempt to "stop the bloodshed" that resulted from crackdown on anti-coup street protests.