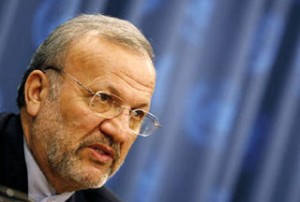 Iranian Foreign Minister Manouchehr Mottaki says the Islamic Republic's policy is based on the promotion of peace and security in the entire region, and particularly in Lebanon.
"The Islamic Republic of Iran prioritizes the promotion of stability and peace in Lebanon and serious fight against tension and violation of nations' rights," Mottaki said in a meeting with Lebanese President Michel Sleiman in Beirut on Monday.
Mottaki, who is on his first official visit to Beirut since the establishment of Lebanon's new government last month, expressed the readiness of Iran's private sector to participate in Lebanon's infrastructural and development plans.
The Lebanese president stressed the importance of holding constant consultations between Tehran and Beirut on various international issues after Lebanon was elected by the United Nations General Assembly as a non-permanent member of the Security Council.
In a separate meeting with Lebanese Foreign Minister Ali Shami in Beirut on Monday, Mottaki called on political groups in Lebanon to strengthen national unity through their constructive interaction.
"National unity in Lebanon will play a key role in the promotion of stability and security in the country and in the Middle East to counter main challenges," said the Iranian minister.
The two ministers discussed regional developments and other topics of mutual concern.
Mottaki also held talks with Secretary General of Lebanon's Hezbollah Movement Sayyed Hassan Nasrallah.
Earlier, he paid tribute to the late senior Hezbollah official, Imad Mughniyeh who was assassinated by Israel in early 2008.