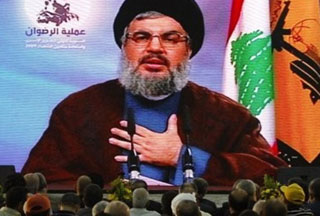 Hezbollah Secretary-General Seyyed Hassan Nasrallah renews calls for the Lebanese nation to embrace resistance as the only way to counter Israeli threats.
In a Monday address to Lebanese officials in Beirut, Nasrallah criticized Israel for its ongoing military maneuvers and for holding hundreds of Lebanese and Palestinians in jail.
"They are speaking of a war that will eradicate the resistance from the Lebanese territories," Nasrallah said, calling on the nation to embrace the culture of resistance.
Nasrallah accused Israeli leaders of greed and seeking to usurp Lebanese lands, saying that under such circumstances negotiations would be futile.
He went on to warn Iraqi leaders against what he called an American plot for fueling sectarian strife in the country, urging Iraq's political and religious figures to take preventative measures against such attempts.