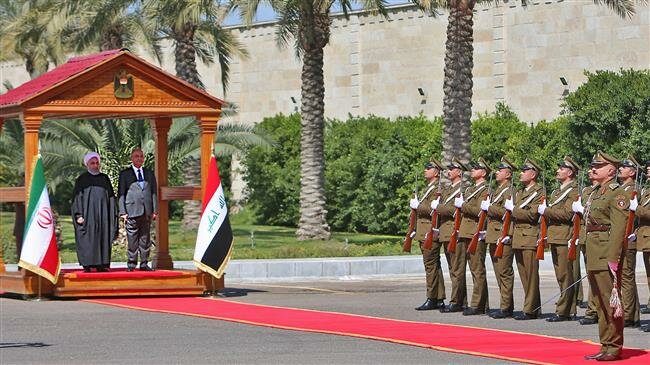 Heading a high-level delegation, President Hassan Rouhani of Iran made a historic visit to Iraq this week. It was the president's first visit to neighboring Iraq and was replete with achievements. He arrived to a warm welcome in Baghdad on Monday, when the two neighbors announced several economic trade deals, including in the fields of energy, railway, health, investment, and tourism, with the aim of increasing their annual trade volume from the current $12 billion to $20 billion and offsetting new American sanctions on Tehran.
Besides its great political significance, Rouhani's visit was reflective of the deep-rooted religious and cultural bonds between the two nations. His sojourn in Baghdad was not restrained to mere politico-economic meetings and saw the Iranian president visit the holy shrines of two Shia Muslim Imams in the Iraqi capital's northern Kadhimiya neighborhood too.
"I feel like I am in my second homeland," Rouhani said at a presser with his Iraqi counterpart, Barham Salih, at Baghdad's Salam Palace. "We have had deep relations for thousands of years — religious, historical, cultural — and we are not planning to let that go."
The landmark visit also took Rouhani to the holy twin cities of Karbala and Najaf, home to the revered shrines of another two Shia Imams. There, the Iranian president held talks with Iraqi elite, tribal leaders, and senior religious figures.
The president capped his visit by meeting with Iraq's top religious figure, Grand Ayatollah Ali al-Sistani, becoming the first sitting Iranian president to have ever been received by the hugely influential Shia cleric.
Observers and the media around the world, in a similar take, described the visit as a clear political message to the US, whose President Donald Trump was late last year forced to sneak into Iraq under the cover of darkness over security concerns and briefly stayed at a military base in Iraq's al-Anbar Province, where no Iraqi officials were present to receive him.
Some Iraqi political and military leaders even condemned Trump's surprise visit as a violation of Iraq's sovereignty.
The dramatic contrast between the two visits — the one by Rouhani and the one by Trump — did not slip the grasp of media outlets of all political leanings inside Iran as well as those in the broader Middle East.
Iran's Kayhan newspaper published an analysis piece on Rouhani's visit that started with a flashback to Trump's account of his own trip.
It wrote: a plane with no lights on touched down in Iraq after an 11-hour flight full of anxiety. The outcome of Donald Trump's roughly three-hour visit to a military base in Iraq's Anbar Province was the confession that "we spent $7 trillion in the Middle East and we can't land with the lights on 20 years later. How bad is that?" Rouhani, however, traveled to Iraq with the utmost dignity and received a friendly welcome from the Arab country's high-ranking officials in a visit that threw light on the results of Iran's and America's highly dissimilar Middle East policies.
Iran's Javan daily, in turn, called Trump's secret visit a "humiliation" for the United States and wrote in an editorial: Rouhani toured Iraq in broad daylight — in a visit that had been announced more than two weeks in advance — and received a warm welcome from the authorities of the friendly, brotherly, and neighborly country, whereas Trump quietly crept into a military base in Anbar in darkness. That visit took place amid tight security measures, with no official welcoming ceremony held for the US leader. The authorities in Baghdad also turned down Trump's invitation for a meeting at the military facility.
The editorial was titled "A trip under the aegis of Zulfaqar of Resistance," in a reference to Iran's most prestigious military order, the Order of Zulfaqar, which was for the first time awarded by Leader of the Islamic Revolution Ayatollah Seyyed Ali Khamenei to Major General Qassem Soleimani, commander of the Quds Force of Iran's Islamic Revolution Guards Corps (IRGC), on the same day that Rouhani embarked on the historic tour of Iraq.
Major General Soleimani led the Iranian military advisory mission that rushed to the help of Iraq's national army and volunteer fighters in response to a call by the Baghdad government in 2014, when Daesh — the world's most notorious terror group — emerged from the ashes of al-Qaeda in the Arab state and drove government forces out of key cities in the northern and western parts of the country.
Iran's military advisers helped the Iraqi armed forces to swiftly rebuild, reverse Daesh's gains, and ultimately liberate their entire homeland from the Takfiri terror outfit in late 2017.
Javan further wrote, "The whole world drew contrasts between Rouhani's official visit and Trump's stealthy trip."
On the same topic, Iran's Khorasan and Ebtekar newspapers highlighted a tweet by Carl Bildt, a Swedish politician, diplomat, and ex-prime minister, in which he had said, "While Trump only visited US troops at a remote airbase, not meeting with Iraqi leaders, Iran's President Rouhani spends three days touring the country."
The Hamdeli daily also touched on the striking differences between the two visits in an article headlined "Iran, an umbrella over the Middle East" and said: Political experts in Iran believe Rouhani's trip sent a strong and important message to the United States and its allies in the region, signaling that Iran retains influence in Iraq, an Arab country that heavily relied on Tehran's assistance in the course of its battle against Daesh terrorists.
With Daesh on the verge of collapse, it is now Iran that seeks Iraq's support in the face of America's economic pressure campaign against the Islamic Republic, which intensified after Washington's exit from a 2015 multilateral nuclear deal in May 2018, it added.
Ali Khorram, Iran's ex-ambassador to the United Nations Office at Geneva, underscored the importance of Iran's lobbying and diplomatic influence in the region in an interview with Hamdeli.
"The fact that Iran can act as the foremost power in the region does not mean hegemonism and racism. All countries can achieve that status through healthy competition in various fields such as security, economy, politics, and science," he said.
In order to blunt the impact of the Western pressure campaign, he added, Iran needs to extend the range of political influence in regional states. "In the absence of the European Union, we need to work with countries such as Iraq. Iran is undoubtedly the sole regional player that can set the rules of the game in the Middle East. Iran's presence and influence in the four Middle Eastern capitals of Baghdad, Beirut, Damascus, and Sana'a have drawn much attention from international relations experts."
'A thief that breaks in at night'
Lebanon's Al-Ahed news website also focused on how Rouhani and Trump had traveled to Iraq and wrote: The Americans talk day and night about the need to respect other countries' sovereignty and independence, but they act differently.
Besides the US presidents, tens of — if not hundreds of — the country's politicians and officials have visited Iraq and other countries where the US has a military presence in this manner and acted like a thief that breaks in at night, it said.
In marked contrast to Trump, Rouhani's plane did not fly with its lights out and window shutters drawn out of safety concerns. The Iranian president was accompanied by scores of ministers, advisers, deputies, and experts, who landed in the center of Baghdad and were warmly welcomed by Salih and a large group of other Iraqi officials, Al-Ahed added.
Rouhani, it further said, entered Iraq as the chief executive of a country that seeks to put its words into action, has respect for not just itself but for others as well, and is not dismissive of diplomatic norms.
The visiting Iranian president's comments on the US received extensive coverage in Iraqi media.
For the headline of one of its news stories, the al-Malouma news chose a quote from Rouhani that said, "The US is after tensions, and talks with the US will yield no result."
Iraq's Alsumaria, Alghad Press and Al Forat Network likewise picked out the Iranian president's remarks about the futility of negotiations with the US while sanctions are in place against the Islamic Republic.
Baghad Today selected quotes from a televised speech by Rouhani, during which he said Iran was open to dialog with America if Washington returned to the nuclear deal.
Commenting on the "unprecedented" agenda of Rouhani's three-day stay in Iraq, the pan-Arab al-Araby al-Jadeed media outlet said the trip carried political messages for Washington.
In an interview with the London-based news outlet, an unnamed Iraqi official rejected speculation that Rouhani was in Iraq to seek compensation for losses during the 1980s war imposed by the ex-Iraqi dictator Saddam Hussein on Iran, saying that that case was currently not the focus of attention.
Al-Araby al-Jadeed also quoted Iraqi political commentator Ahmad al-Hamdani as saying that Rouhani's visit was Iran's show of power on the Iraqi stage in the face of America and some regional states.