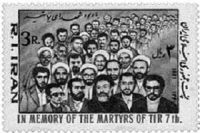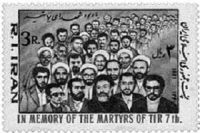 On 28 June 1981 – the 7th of Tir 1360 in the Persian Solar calendar – a powerful bomb blasted at the headquarters of the Iran Islamic Republic Party (IRP) in Tehran, while the members in a meeting.
According to MNA, Seventy-two officials of the Islamic Republic were Martyred, including Chief Justice Ayatollah Mohammad Beheshti – who was the speaker of the parliament – four cabinet ministers, twenty-seven members of the Parliament and several other government officials.
The terrorist group of MKO was responsible for the attack although they never publicly confirmed or denied responsibility for the deed.
A day before, a failed assassination was attempted on Ayatollah Seyyed Ali Khamenie (Leader of the Islamic Revolution) who was the president then. The attempt failed to kill him but injured his left hand.
The Mojahedin Khalq Organization (MKO or Mojahedin-e Khalgh) is an armed terrorist group which fled Iran in 1986 for Iraq, where it received the backing of Iraq's executed dictator Saddam Hussein and set up a camp near the Iranian border. The terrorist group also sided with Saddam during Iraq's eight-year imposed war on the Islamic Republic in 1980-1988.
Out of the nearly 17,000 Iranians killed in terrorist attacks since the victory of Iran's 1979 Islamic Revolution, 12,000 have fallen victim to the acts of terror carried out by the MKO.