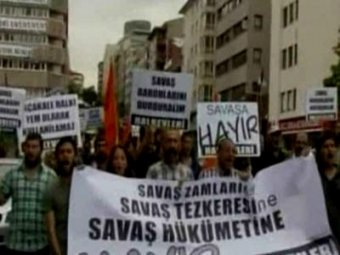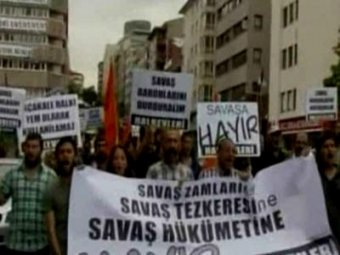 Thousands of Turkish citizens in Istanbul, Ankara and other cities on Thursday protested against the policies adopted by the government of the Justice and Development Party, headed by Recep Tayyip Erdogan, which is increasing tension in the region and thus threatening security in implementation of west that do not serve the interests of the Turkish people.
In Istanbul city, thousands crowded in the main Taksim Square in response to calls by a number of left-wing parties raising a large banner with "No to War" written on it.
The protesters accuse Erdogan government of exploiting the accident on borders with Syria to mobilize the public opinion to support its anti-peace policies.
The protestors chanted slogans condemning the US and its support to terrorism in the region.
They stressed that the AKP is dragging Turkey into an imperialist war under Washington's instruction.
In Ankara, hundreds of citizens gathered in front of the Parliament building denouncing the current government's subjugation to the western policies and being a tool in the aggression on the peoples of the region in contradiction with the Turkish interests.
The Turkish citizens stressed their keenness on preserving best relations with the Syrian people, reiterating rejection of turning their country into a base for terrorists who commit murder acts in Syria.