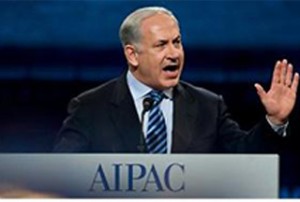 The Israeli premier, in accordance with the regime's Iranophobia policy, has warned against Tehran's nuclear program, calling for 'swift and decisive' action on the Islamic Republic.
Speaking before representatives and senators at the top influential pro-Israel lobbying group, AIPAC, in Washington on Monday, Binyamin Netanyahu said that Tel Aviv expects "the international community to act swiftly and to act decisively to thwart this danger."
He said that if Iran achieves the development of nuclear weapons, it would end the 65-year nuclear peace the world has known.
This is while Iran, which unlike Israel is a signatory to the Nuclear Non-Proliferation Treaty (NPT), says its nuclear work is directed at the civilian applications of the technology and is not after nuclear weapons.
However, Israel, the US and their allies accuse Tehran of pursuing a military objective in its nuclear program, despite affirmation by the International Atomic Energy Agency (IAEA) of Iran's non-diversion in its activities.
Israel, reported to have the region's sole atomic arsenal, has a long-standing agenda to bomb Iran's nuclear sites, arguing that the country is a potential threat against the regime.
Plans for a military attack against Iran have gained momentum in Tel Aviv over the past few months. On November 7, Israeli Deputy Foreign Minister Danny Ayalon warned Iran that Tel Aviv's persistent threats of military action were not just bluff.
Iran rejects US and Israeli allegations over its nuclear energy program as politically-motivated.
Iran's nuclear program was launched in the 1950s with the help of the United States as part of the Atoms for Peace program.
After the 1979 Revolution, which toppled Iran's US-backed monarch Mohammad Reza Pahlavi, Western companies working on Iran's nuclear program refused to fulfill their obligations even though they had been paid in full.