Palestine
Human Rights
Middle East
Resistance Axix
INDESCRIBABLE SAVAGE: New footage reveals rabid zionist forces raiding hospital before Abu Akleh funeral
New footage has revealed Israeli forces' brutality and violence at the funeral of slain Palestinian journalist Shireen Abu Akleh as they stormed a hospital prior to the procession, hitting and shoving people inside, including patients, and firing from the grounds of the medical facility.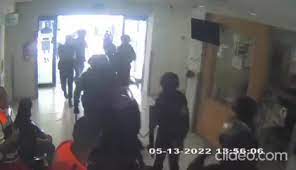 The video clips, obtained from security cameras inside Saint Joseph's Hospital in al-Quds, were presented during a press conference by local Vatican-affiliated Christian leaders on Monday.
The footage showed dozens of Israeli forces with helmets, protective vests and batons rushing into the hospital before the funeral procession began.
They were seen firing on the outside grounds of the hospital, while one clip showed officers shoving a man on crutches to the ground as they ran through the hospital.
In another video, an officer is seen telling the crowd that the procession would not commence until the crowd stopped "nationalistic" and Palestinian chants.
During the press conference, the church leaders said they were considering possible action against Israeli forces at international legal forums. They were consulting with the Vatican on whether to involve more senior, political figures in the Catholic Church.
Latin Patriarch Pierbattista Pizzaballa in al-Quds lambasted "Israel's police invasion and disproportionate use of force" at the hospital. He also criticized them for "attacking mourners, striking them with batons, using smoke grenades [and] shooting rubber bullets."
Pizzaballa stressed that Israeli forces stormed the hospital, "disrespecting the church, disrespecting the health institute, disrespecting the memory of the deceased, and forcing the pallbearers to almost drop the coffin."
Media reports said Israeli forces assaulted mourners to prevent them from carrying the coffin of Abu Akleh from the hospital to the Roman Catholic church in the Old City, before taking her to cemetery, where she was laid to rest alongside her deceased parents.
The Palestinian Red Crescent reported that at least 33 people were wounded in the Israeli attack on the funeral procession.
Abu Akleh, a veteran of the Qatar-based Al Jazeera network's Arabic service, was shot in the head on Wednesday, when she was reporting on an Israeli raid against Palestinians living in the Jenin refugee camp.
Her tragic death sent shockwaves across the region, drawing global condemnation. The United Nations and the European Union, among others, have called for a full investigation into what has been described as a deliberate killing "in cold blood."