India
India Calls for Changing UN Structure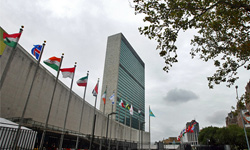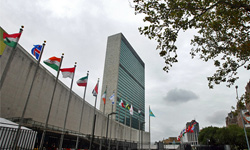 Indian President Shri Pranab Mukherjee underlined the necessity for reforms in the UN structure, saying the majority of the world countries never find the opportunity to have their say in the decision-making process at the United Nations.
The Indian president made the remarks during a meeting with the new Iranian ambassador to India Gholamreza Ansari in New Delhi on Tuesday.
Mukherjee said the structure of the United Nations needs to be revised and improved so that the international body can meet the needs of all human beings and resolve political crises across the globe.
He added that the world is currently facing many problems, which can be resolved through the active participation of nations and close cooperation between governments.
Mukherjee stated that India has an active presence in various issues and is ready to step up its political efforts within the framework of the United Nations.
On November 27, Iran's Permanent Representative to the United Nations Mohammad Khazayee underlined the necessity for changing the UN Security Council's decision-making mechanism, and said the UNSC should also pay attention to the views of non-member states.
"The non-member states which are addressed by discussions at the Council should have the opportunity to state their positions and views in the UNSC's general sessions," Khazayee said, addressing a meeting of the UNSC in New York at the time.
He said that the considerations and views of the non-member states stated in different meetings should be paid attention and be reflected in the annual report of the UNSC.
In relevant remarks in August, President of the UN General Assembly Nasser Abdulaziz also stressed the necessity for reforming the world body's structure.
"The UN Security Council needs reforms to adapt itself to the new realities in the world," Abdulaziz said, addressing the inauguration ceremony of the Non-Aligned Movement (NAM) summit in Tehran at the time.
He added that the UN General Assembly has already discussed the need for restructuring the UNSC, and reached some results.
He noted that the UN General Assembly can provide a better room for international cooperation among members.
His remarks came after Supreme Leader of Islamic Revolution Ayatollah Seyed Ali Khamenei also said that "the UN Security Council has an illogical, unjust and completely undemocratic structure and mechanism."
"This is a flagrant form of dictatorship, which is antiquated and obsolete and whose expiry date has passed. It is through abusing this improper mechanism that America and its accomplices have managed to disguise their bullying as noble concepts and impose it on the world," Ayatollah Khamenei said, addressing the inauguration ceremony of the NAM summit in August.