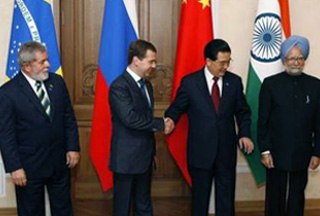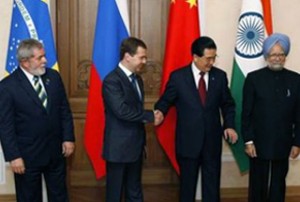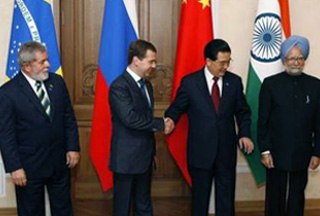 India and China say they have decided to develop their strategic trade partnership as two equal partners rather than competitors.
Chinese President Hu Jintao on Thursday said he agrees with the Indian Prime Minister Manmohan Singh that the world was large enough to accommodate the aspirations of both India and China and to give greater market access to each other's products to boost trade.
The two leaders met for 45 minutes on the sidelines of the Brazil-Russia-India-China (BRIC) and India-Brazil-South Africa summits in Brasilia, Brazil.
"Both sides were of the view that cooperation and friendship between India and China would be mutually beneficial. It would bring peace, stability and prosperity to the region which in turn would benefit the world at large," explained Vishnu Prakash spokesperson for India's External Affairs Ministry.
The leaders of the four major economies grouped under the BRIC banner, have gathered to discuss alternatives to the US dollar as a global reserve currency, their own respective roles in the world economy and the possibility of having a greater say in whatever evolves as the new economic order on the ruins of the 2008 economic meltdown.
Brazil and India also want their economic presence reflected in permanent membership of the UN Security Council, where China and Russia already have permanent seats.
Brazilian President Luiz Inacio Lula da Silva is playing host to the BRIC group. Russia is represented by President Dmitry Medvedev. South African President Jacob Zuma is also attending.