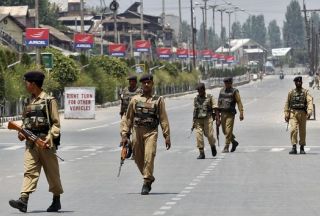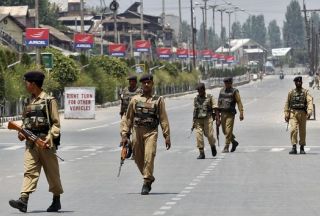 Indian security forces have re-imposed a curfew in Indian-administered Kashmir's main city as violence continues to sweep through the volatile valley.
On Friday, local officials have warned the residents of Srinagar against leaving their homes. The move followed a massive sit-in at several locations in the capital city.
A strict five-day curfew imposed in the area was only lifted on Thursday, when people gathered and staged a sit-in in protest against the killings of civilians at the hands of Indian forces.
The disputed Indian-administered region has been rocked by protests since June 11, when a teenager was allegedly killed by government forces.
Fourteen other Kashmiris have been killed in protests that followed the incident. Each death sparked fresh violence across the volatile Himalayan region.
Indian security forces are struggling to control demonstrations in the Kashmir valley.
The developments also come as meeting between Pakistani Foreign ministers Shah Mehmod Qureshi and his Indian counterpart S.M Krishna have ended in Islamabad without any developments.
India and Pakistan both claim full control over Kashmir but rule the territory only in part. The dispute has led to two wars between the two countries.
Political analysts say the frequent street protests of the past two years are giving new life to the Kashmir liberation struggle.
Over the past two decades, the conflict in Kashmir has left over 47,000 people dead by the official count, although other sources say the death toll could be as high as 90,000.