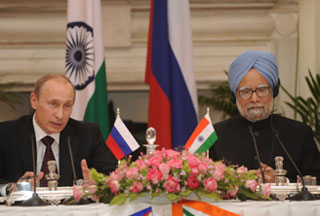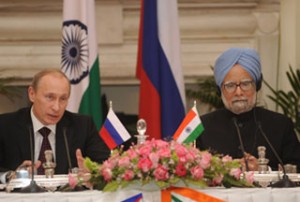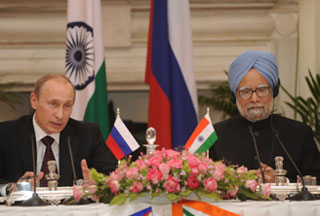 With Russian Prime Minister Vladimir Putin in India, New Delhi and Moscow inked a raft of agreements on defense, space and civil nuclear energy cooperation and discussed fighting terrorism in the region.
Putin, who was on a one-day deal-making visit to New Delhi, held back-to-back meetings with Prime Minister Manmohan Singh, President Pratibha Patil and ruling Congress party leader Sonia Gandhi.
The two countries signed a series of deals on Friday under which India will purchase more than $7 billion in hardware and expertise from Russia.
The multi-billion-dollar agreements include the construction of at least 12 Russian nuclear reactors for an energy-starved India, purchase of an aircraft carrier, a fleet of MIG-29 fighters, along with defense and space technology.
Following the signing of the agreements, Singh told a joint press conference that India and Russia can work together to promote global peace and stability and help revive the global economy.
"We've agreed to intensify our consultations on Afghanistan and the challenges posed by terrorism and extremism in our region," the Indian prime minister told reporters.
The new pacts come as the Russian prime minister wants the level of trade between India and Russia to expand to $20 billion a year by 2015 from the current $8 billion.