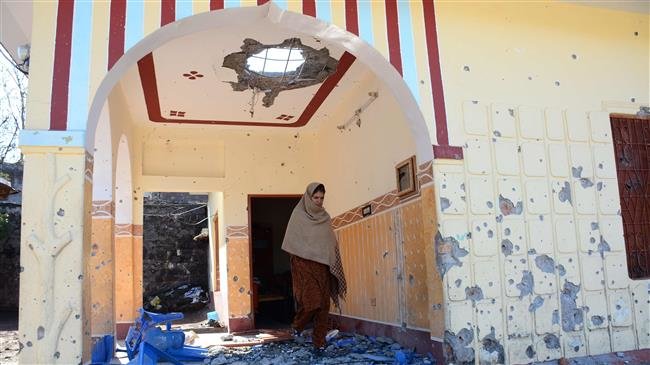 India says it has shot down a third Pakistani drone since border tensions escalated last month and carried out three cross-border strikes in the last five years.
The nuclear-armed neighbors are facing their most serious conflict in years, with cross-border airstrikes and a dogfight over the skies of Kashmir after a bombing attack on Feb. 14 killed at least 40 Indian police.
Tensions cooled after Pakistan last Friday returned the Indian pilot of a downed aircraft, but both nations have continued to fire shells and mortars over their de facto Kashmir border.
On Saturday, the Indian army said it shot down a Pakistani drone which had intruded into the northern border state of Rajasthan – the third alleged downing since the new skirmishes began.
Home Affairs Minister Rajnath Singh also said India had carried out three cross-border strikes in Pakistan in the last five years.
Singh said Indian forces struck alleged terrorist "launchpads" in Pakistani Kashmir in 2016, after four militants killed 19 Indian soldiers near the town of Uri.
"We have gone beyond our borders thrice and our men have successfully conducted airstrikes," Singh told a public rally in Mangalore. "About two I will tell you, but won't tell you about the third one," he added.
The third strike may refer to an alleged 2017 army operation that Indian journalist Shiv Aroor said had killed three Pakistani soldiers.
The most recent strikes set off a tit-for-tat escalation that saw the capture and immediate release of Indian Air Force Wing Commander Abhinandan Varthaman, helping the two countries step back from the brink of a major conflict.
India on Saturday called on the United States to investigate Pakistan's alleged use of American-made F-16 jets in the downing of the Indian MIG 21 jet.
"We have asked the United States to also examine whether the use of F-16 against India is in accordance with the terms and conditions of sale," Foreign Ministry spokesperson Raveesh Kumar said.
Indian officials say they have recovered parts of an AMRAAM air-to-air missile that can only be used on those specific jets.
Kumar said New Delhi has "eye-witness accounts and electronic evidence that Pakistan deployed F-16 aircraft" and claimed that one such jet was shot down by Abhinandan.
Pakistan has stated that no F-16s were used in the operation.
The US puts certain restrictions on how its military equipment can be used. It is unclear what restrictions were placed on the use of Pakistan's F-16 jets.
A US Department of State official told CNN that it was "aware of reports" on the use of F-16 jets but Pakistan's ambassador to the US, Asad Majeed Khan, said he was not aware of any request from the US about the alleged use of F-16s.
Since the 1947 partition and independence from the UK, India and Pakistan have been embroiled in a dispute over Kashmir and fought three wars over the scenic Himalayan territory.