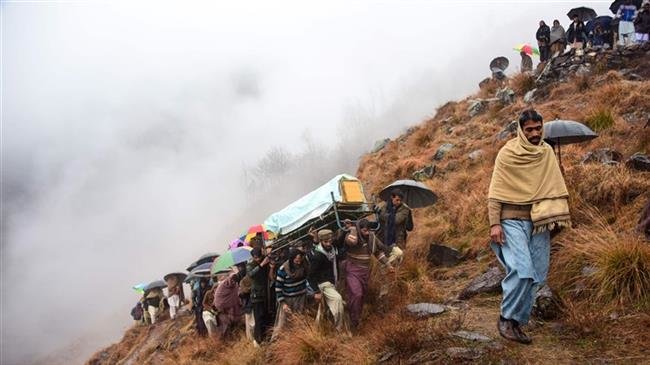 Indian armed forces maintain "strict vigil" to defend their homeland against new attacks from Pakistan, an Indian government official has said, reiterating New Delhi's previous warnings to Islamabad to take concrete action against militant groups operating on Pakistani soil.
"Our armed forces continue to maintain strict vigil and will remain determined in the defense of the nation and its citizens," India's Foreign Ministry spokesman Raveesh Kumar said on Saturday.
"We have and we will continue to act with responsibility and maturity," he added.
Kumar said Islamabad was in "a state of denial" over its support for groups accused of staging attacks in India, and that Pakistan had failed to take any "credible action" against those terrorist outfits.
He made the remarks after Pakistani security forces said this week that they had arrested dozens of militants in what was described as a crackdown against "proscribed organizations" following last month's bombing attack in the Indian-controlled Kashmir.
Islamabad said the younger brother of the leader of a militant group — which claimed responsibility for the deadly attack on an Indian security forces convoy in Kashmir on February 14 — was among the detainees.
Pakistani officials said the crackdown was part of a long-planned drive and not a response to Indian anger over what New Delhi calls Islamabad's failure to rein in militant groups operating on Pakistani soil.
The terrorist attack in Kashmir left at least 40 troops dead, sparking tensions between the two nuclear-armed neighbors and spurring tit-for-tat cross-border raids. The tensions reached a peak last Tuesday, when India said it had conducted "preemptive" airstrikes against what it described as a militant training camp in Pakistan's Balakot.
Islamabad confirmed and condemned the violation of its airspace but denied that the purported target had been hit.
A day later, the Pakistani military captured an Indian pilot after shooting down his MiG-21 fighter jet in Pakistan's airspace.
The flare-up between the two arch-foes appeared to be easing after Pakistan handed back Wing Commander Abhinandan Varthaman, whose return was meant to be a goodwill gesture toward India.
But the tensions continued.
Kashmir has been split between India and Pakistan since partition in 1947. Both countries claim all of Kashmir and have fought three wars over the territory.
Indian troops are in constant clashes with armed groups seeking Kashmir's independence or its merger with Pakistan. India regularly accuses Pakistan of arming and training militants and allowing them across the restive frontier in an attempt to launch attacks. Pakistan strongly denies the allegation.