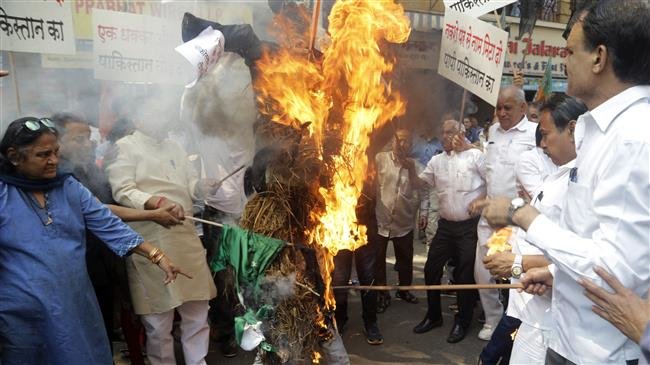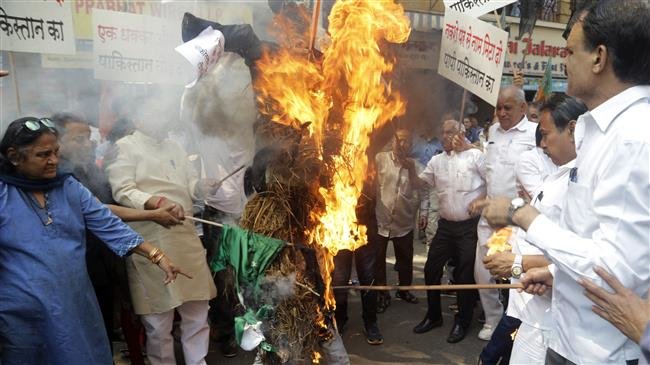 India has summoned Islamabad's ambassador after a Pakistani-based militant group took responsibility for a deadly car bombing in Indian-controlled Kashmir.
An Indian government source said that Foreign Secretary Vijay Gokhale called Pakistan's ambassador to New Delhi Sohail Mahmood on Friday, and "issued a very strong demarche in connection with the terrorist attack in Pulwama yesterday."
This came after the Pakistan-based militant group Jaish-e-Mohammad (JeM) claimed responsibility for the Thursday attack, which killed at least 44 Indian paramilitary troops near the main city Srinagar.
Islamabad condemned that attack and denied any involvement.
Harsh response
Earlier in the day, India's Prime Minister Narendra Modi vowed a strong response to those behind the attack.
"I want to tell the terrorist groups and their masters that they have committed a big mistake. They have to pay a heavy price," he said after an emergency cabinet meeting.
New Delhi accused Islamabad of harboring militants behind the Thursday's attack, which was the deadliest bombing in three decades of bloodshed in Indian-controlled Kashmir. India says it has incontrovertible evidence of Pakistan's involvement, a charge Islamabad dismisses.
"We will give a befitting reply, our neighbor will not be allowed to de-stabilize us," Modi said on Friday.
Shortly after the attack, India's cabinet minister Arun Jaitley said New Delhi will take all possible diplomatic steps to ensure the "complete isolation" of Pakistan.
The first step, he said, would include India removing most favored nation (MFN) trade privileges given to Pakistan.
"The ministry of external affairs will initiate all possible steps, and I am here referring to all possible diplomatic steps which have to be taken to ensure the complete isolation from the international community of Pakistan," Jaitley said.
Islamabad hit back immediately, saying it "strongly reject any insinuation by elements in the Indian media and government that seek to link the attack to Pakistan without investigations."
Jammu and Kashmir is a disputed region located between India and Pakistan. The two nuclear-armed rivals have fought four wars since their partition in 1947, three of them over Kashmir.
New Delhi has deployed hundreds of thousands of special military and police forces to crack down on pro-independence protesters opposed to Indian rule over the Muslim region. It has long accused Pakistan of funding and arming pro-independence fighters in Kashmir.
Islamabad, however, denies the allegations, saying it only provides diplomatic support to Kashmiris fighting for self-determination.