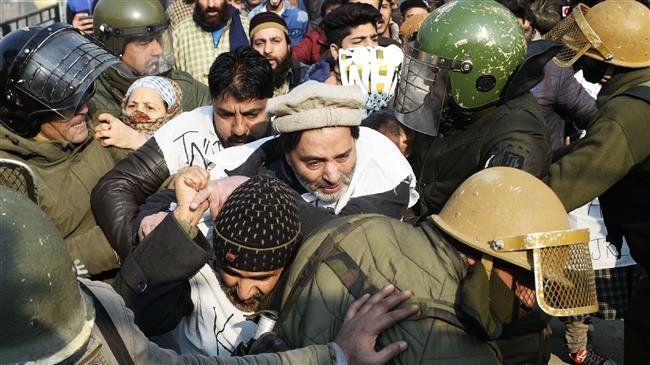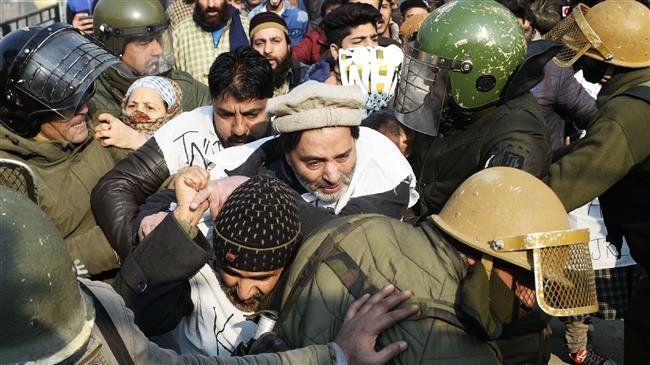 Indian authorities have put pro-independence leaders in New Delhi-controlled Kashmir under house arrest and enforced a security lockdown on the region's main city to foil a planned march against the recent civilian killings by India's troops.
People in the Indian-administered Kashmir were set to march toward an army headquarters in Srinagar on Monday against the recent killing of at least seven civilians during anti-New Delhi protests on Saturday.
Security forces were deployed to various parts of Srinagar on Monday and sealed off all the roads leading to the army's main garrison in the city.
They also put two pro-independence leaders, Syed Ali Shah Geelani and Mirwaiz Umar Farooq, under house arrest to prevent them from leading the march.
In a statement late on Sunday, the army warned the Kashmiri people against what it called trouble making.
"Army advises people not to fall prey to such designs of anti-national forces," it said.
Authorities also closed shops, government offices and banks in Srinagar and a nearby district. Mobile internet and train services have also been shut down.
The rally was called in response to the killing of seven people during demonstration on Saturday. One Indian soldier was also killed.
Unrest has intensified over recent weeks between government forces and pro-independence fighters, who are seeking an end to the Indian rule in the disputed valley.
The Muslim-majority region has been divided between India and Pakistan but is claimed in full by both countries since they partitioned and gained independence from Britain in 1947.
India accuses Pakistan of supporting pro-independence fighters, an allegation rejected by Islamabad, which in turn, is critical of India's heavy military deployment to Kashmir and its crackdown against the region's Muslim population.
Pakistan raps India's 'killing spree'
On Sunday, Pakistani Prime Minster Imran Khan condemned the latest violence in a Twitter post, saying he would raise India's "human rights violations" at the United Nations.
"Only dialogue and not violence and killings will resolve this conflict," he wrote.
Late last month, Khan suggested that his ruling party and the country's influential military want to mend ties and resolve outstanding disputes with New Delhi.
The Pakistani premier also asserted that the Kashmir dispute can be resolved only through talks.
Pakistan's Foreign Minister Shah Mahmood Qureshi also condemned the latest killings, calling on the international community to intervene in what he described as the ongoing killing spree of innocent Kashmiris by Indian forces in Kashmir.
"Human rights organizations and other world bodies should immediately intervene against state terrorism of the Indian forces against innocent Kashmiris in the Occupied Kashmir," he added.
The foreign minister put the number of the fatalities at 14, including a ten-year-old boy. At least 300 were also injured, according to him.
Qureshi said he had written letters to human rights organizations, the United Nations and the Organization of Islamic Cooperation (OIC) to take notice of grave human rights violations and raise voice against Indian oppression in Kashmir.
He also said that Islamabad will further continue extending its moral, political, and diplomatic support to the people of Kashmir in their just cause for right to self-determination, adding that all political parties of Pakistan are unanimous over Kashmir issue.