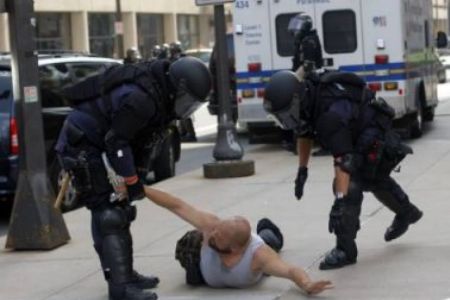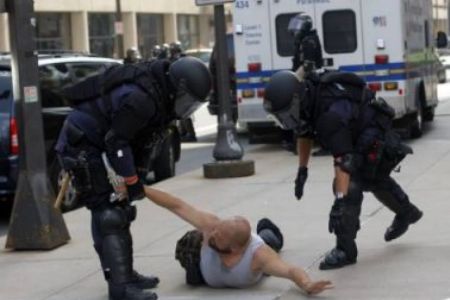 An American family has sued Indiana police for excessive use of force after officials smashed the window of their car and used a stun gun on a man inside.
Jamal Jones was a passenger in the car driven by Lisa Mahone who had been pulled over for not wearing a seatbelt.
The couple, with Mahone's two kids in the back seat, was en route to a hospital when they were pulled over.
Police officers asked Jamal Jones for his identification and then told him to exit the vehicle. However, Jones says he was afraid to get out of the car because the officers had drawn their guns.
After he refused their requests to get out of the car, the officers smashed the car window, used a taser on him, arrested him and charged him with resisting law enforcement.
Jones said, "It felt like my civil rights were just thrown out the window, along with my body."
The two children were also suffered minor cuts from flying glass.
Jones's son recorded the September incident on his mobile phone. The family has released the video.
"Thank goodness Joseph took the video, because the video stands for itself that these officers engaged in excessive force," attorney Dana Kurtz said in a news conference with the couple Tuesday.
"The officers from Hammond police department escalated the incident without any basis and without any cause," Kurtz added.
Hammond police spokesman Lieutenant Richard Hoyda, however, issued a statement, saying Jones had refused to comply with orders to get out of the car and that officers were concerned for their safety after seeing him "repeatedly reach towards the rear seats of the vehicle."