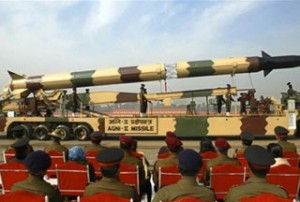 India's nuclear-capable, medium-range ballistic missile has proved unsuccessful during its night-time test fire.
The army test-fired the surface-to-surface Intermediate Range Ballistic Missile (IRBM) from the Integrated Test Range (ITR) from Wheeler's Island, Bhadrak district, around 7:50 pm (1420 GMT).
"The liftoff and the first stage separation was smooth. But it faltered just before the second stage separation and behaved erratically, deviating from its coordinated path," 'the Times of India' quoted a Defense Ministry official as saying on Tuesday.
"Further analysis to ascertain the cause is ongoing," he said on condition of anonymity.
Sophisticated radars, telemetry observation stations, electro-optic instruments and a naval ship tracked the entire trajectory of Monday's test fire.
The launch, originally scheduled earlier this month, had been postponed due to some technical problems in its pneumatic system.
Agni-II, which can deliver a nuclear warhead to targets within a range of 2,500 kilometers (1,560 miles), measures 20 meters in length, one meter in diameter.
The missile, first tested on April 11, 1999, has a launch weight 16 tones and can carry a 1,000 kg conventional or nuclear payload.
The user training test was the first night-time launch since the beginning of a missile development program by the Defense Research and Development Organization (DRDO).
India already has the nuclear-capable 3,000-kilometer range Agni-III missile while unconfirmed reports suggest it is building an Agni variant with a range of 5,000 kilometers.