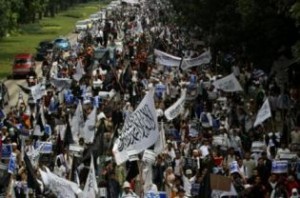 Indonesians have rallied in the capital Jakarta to protest an upcoming visit by the United States' President Barack Obama.
The demonstrators held the protest outside the US Embassy in Jakarta, the Associated Press reported.
The protesters chanted anti-American slogans calling the US president a terrorist.
They brandished banners with slogans such as "Reject Obama, Reject Capitalism, Reject Imperialism."
Slamming US war strategies in the world, the protesters said Obama is responsible for the killing of thousands of people in Afghanistan and other Muslim countries.
They also asked Washington to stop its "blind support for Israel."
Similar protests were staged in other major cities, including Surabaya and Makassar.
Obama is due to arrive in Indonesia October 17 to attend a summit of the Association of Southeast Asian Nations as an observer member.