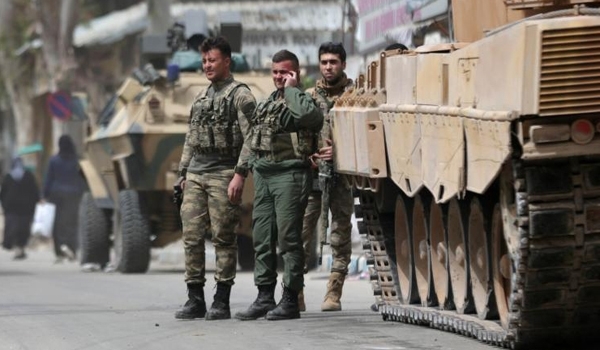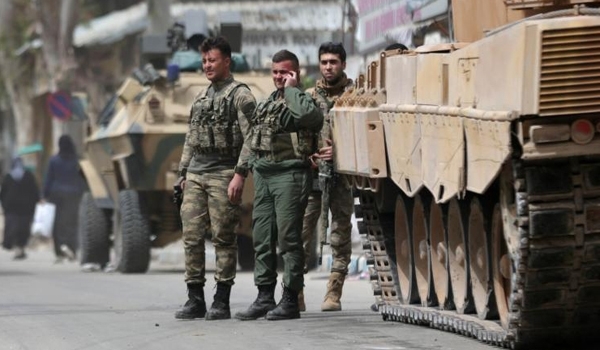 Two groups of Ankara-backed militants engaged in clashes near the town of al-Bab in Northeastern Aleppo on Sunday.
Gunmen of two groups, both affiliated to the Turkish troops, exchanged heavy fire in Tadif region near al-Bab in Northeastern Aleppo, leaving a number of casualties on both warring sides.
In the meantime, the Turkish soldiers and allied militants attacked the village of Karzilah in Shirava region in Afrin, looting villagers' assets and transferring them to an unknown destination.
Also, a militant was killed after the Ankara-backed militants fought with the members of a family in al-Ashrafiyeh district in the town of Afrin.
The Kurdish-led People's Protection Units (YPG) claimed on Saturday that their forces killed 54 Turkish Army soldiers and Free Syrian Army (FSA) fighters in July.
According to the YPG's statement, their forces killed 23 Turkish Army soldiers, including 2 captains and a lieutenant, and 31 Free Syrian Army militants in the Afrin region in Northwestern Aleppo.
The YPG's report added that they lost eight fighters during their field operations inside the Afrin region.
Since losing the Afrin region in March 2018, the YPG has been continuously conducting hit-and-run attacks against the Free Syrian Army and Turkish military.
These hit-and-run attacks by the YPG have resulted in the death of several FSA fighters and Turkish Army soldiers in the Afrin region