Myanmar
Inhuman, Brutal Buddhists ruin Myanmar Oppressed Muslim houses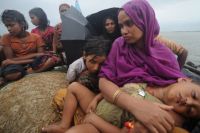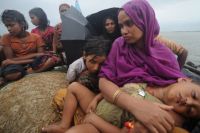 Buddhist extremists have destroyed several houses belonging to Muslims in Myanmar, where the Rohingya Muslim community faces persecution.
On Sunday, Myanmar's state media reported that police had arrested over 40 Buddhists after houses of Muslims came under an arson attack while President Thein Sein was visiting the western state of Rakhine.
According to Press TV, in another incident on the same day, a mob of angry Buddhists destroyed five Muslim-owned houses in the town of Kyaung Gone, about 50 kilometers north-west of the capital of Yangon region.