Syria
Inhuman ISIL terrorists behead 8 Syrian soldiers in Hama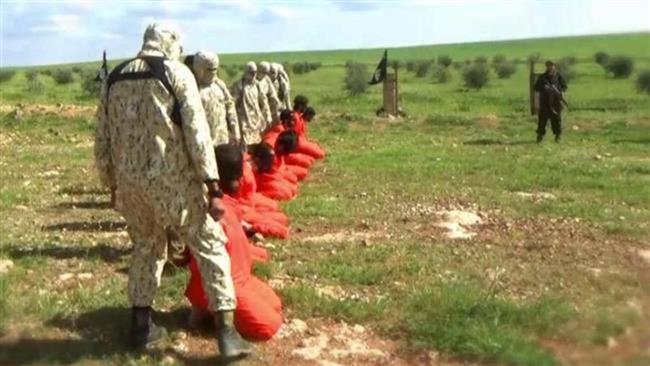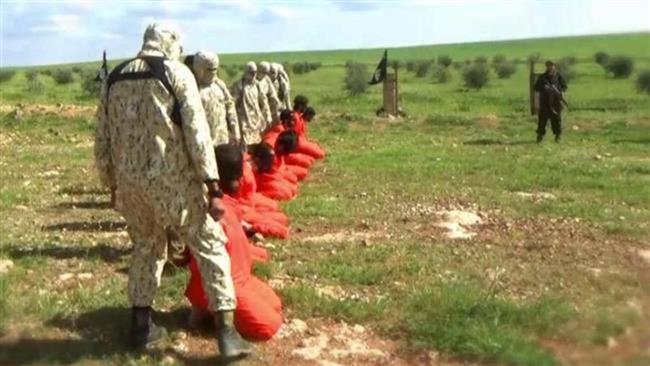 The ISIL Takfiri group has released a new video showing the purported beheading of eight Syrian soldiers in the northwestern province of Hama.
The video, released by the Takfiri militants on Sunday, shows ISIL terrorists executing the Alawite soldiers, wearing orange jumpsuits, for "being Shia Muslims."
The footage could not be independently verified.
ISIL has so far released several similar videos showing the execution of its captives from different countries, including the United States, Britain, and Japan. On March 19, the Takfiri group released a video showing the beheading of three Iraqi Kurdish Peshmerga fighters.
On February 15, the terrorists beheaded 21 Egyptian Coptic Christians in Libya.
On February 3, the ISIL released a video online showing the burning to death of Jordanian pilot Moaz al-Kasasbeh, who had been taken hostage in December 2014 after his plane went down in northern Syria during a mission against the terrorist group.
The Takfiri extremists currently control parts of Syria and Iraq. They have carried out heinous crimes in the two countries, including mass executions and the beheading of people.