Palestine
Inhuman Israeli court sets trial date for 14-year-old Palestinian boy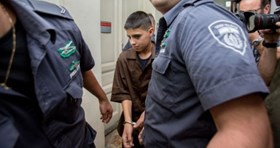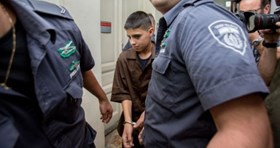 Zionist Israeli court has set the tenth of May for the sentencing hearing of the Palestinian 14-year-old detained boy Ahmed Manasrah. The lawyer Tareq al-Barghouth said that a verdict was expected to be pronounced Monday over Manasrah's case; however, the Israeli court delayed the sentencing hearing to May 10, under the pretext of "lack of readiness".
Manasra is currently being held in a closed treatment facility in northern Israel, with the court rejecting the family's request that he be placed under house arrest. Manasrah was indicted on charges of allegedly attempted stabbing on October 30, following an attack on two Israelis on October 12 at the illegal Pisgat Ze'ev settlement. The two Israelis survived their wounds. Israeli policemen shot dead Hassan Manasra, Ahmed's cousin who accompanied him at the time, and a passing car deliberately ran over Manasra.
A video of Ahmed, gasping and reaching his hand out for help, a terrified expression on his face, went viral and sparked outrage. In the video, Israeli bystanders were heard cursing him and shouting "Die!" in Hebrew. Manasrah's interrogation was videotaped. Last November, in a widely shared video, released ahead of the trial, Israeli policemen appear to be verbally abusing Manasrah and pressuring him to confess to attempting to "murder Jews" and "aiding an enemy at the time of war". Several Israeli police officers are seen screaming at Manasrah, telling him that he had committed crimes and that he must confess. Manasrah, visibly traumatized, is seen crying, hitting his own head, and repeating "I do not remember" before breaking down in tears.
The number of Palestinian children in Israeli custody more than doubled and a new juvenile section was opened at Givot prison. According to prisoner support group Addameer, at least 400 Palestinian children are currently held in Israeli jails.