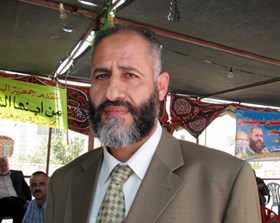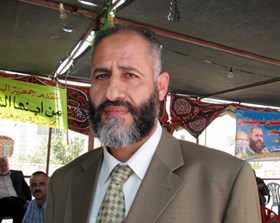 The rabid dog Israeli Prison Authority, which oversees Israeli detention facilities where Palestinian political prisoners are detained, reportedly is refusing to give Palestinian law-maker Nayef Rajoub medical care.
According to Dr. Aziz Duweik, Speaker of the Palestinian Legislative Council, Rajoub is experiencing grave health problems and can hardly stand up.
"Brother Nayef can't pray standing up, he prays while sitting on a chair," Duweik told reporters Wednesday.
Duweik himself was released from an Israeli jail Tuesday, having spent a year in administrative detention for voicing opposition to the Israeli occupation.
Israel, which claims to be a democratic state, gave pro-Hamas lawmakers prolonged prison sentences for taking part in and winning elections in the occupied territories in 2006.
Israel, whose very existence is based on terror and ethnic cleansing against the indigenous Palestinians, views Palestinian resistance groups such as Hamas as "terrorist groups."
Rajoub, a popular MP from the town of Dura, south-west of al-Khalil, spent more than 7 years in Israeli custody, mostly on fabricated charges related to his political activism.
He has never been convicted of any felony.
However, the Israeli justice system views all Palestinians as potentially guilty for opposing the decades-old occupation.
Rajoub family has appealed to human rights groups to pressure the Israeli government to either release him or give him proper medical care.
"It is unfair; my father did not violate any law. He was arrested and imprisoned without charge or trial. His administrative prison sentence was extended for no purpose other than punishing him for his views", said Yousuf Rajoub, his son.
"My father doesn't know why he is in jail. The Israeli authorities refuse to let him know why he is in jail. Yet, Israel claims to be democratic. I wonder what sort of democracy is that."