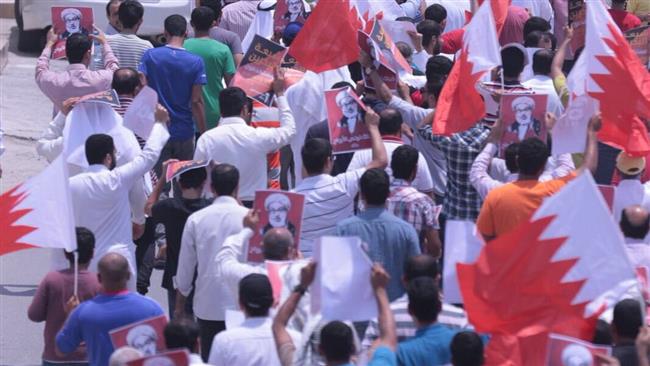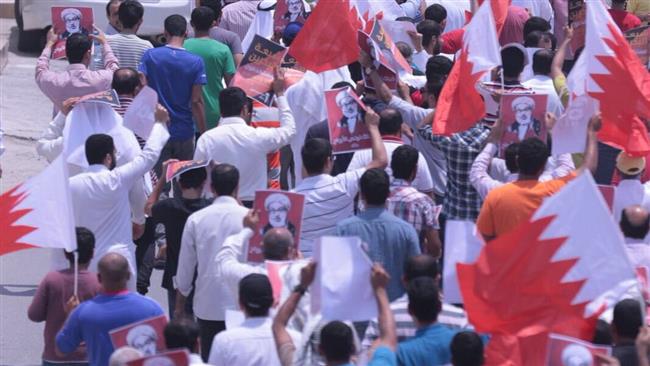 Bahraini regime forces arrested over 50 people as they prepared for Friday Prayers in the northwestern village of Diraz.
Police prevented cleric Sheikh Mohammad al-Sanqour from leading the prayers at Imam Sadiq (peace be upon him) Mosque. Worshippers attended the prayers without the cleric.
The move by the regime forces angered the people.
Worshippers demonstrated outside the mosque after the ritual, chanting slogans against the Manama regime.
The protesters were carrying photos of Bahrain's top Shia cleric Sheikh Isa Qassim.
On June 20, Bahraini authorities stripped Sheikh Qassim of his citizenship, less than a week after suspending the country's main opposition bloc al-Wefaq National Islamic Society, and dissolving the Islamic Enlightenment Institution, founded by Sheikh Qassim, and opposition al-Risala Islamic Association.
Since February 14, 2011, thousands of anti-regime protesters have held numerous demonstrations in Bahrain on an almost daily basis, calling on the Al Khalifah family to relinquish power.
In March that year, troops from Saudi Arabia and the United Arab Emirates were deployed to the country to assist the Bahraini regime in its crackdown on peaceful protests.
Scores of people have been killed and hundreds of others injured or arrested in Manama's crackdown on anti-regime protests.