Saudi Arabia
Yemen
Inhuman zionist Saudi Arabia regime targeting Yemen infrastructure; 381 children killed so far: Army spokesman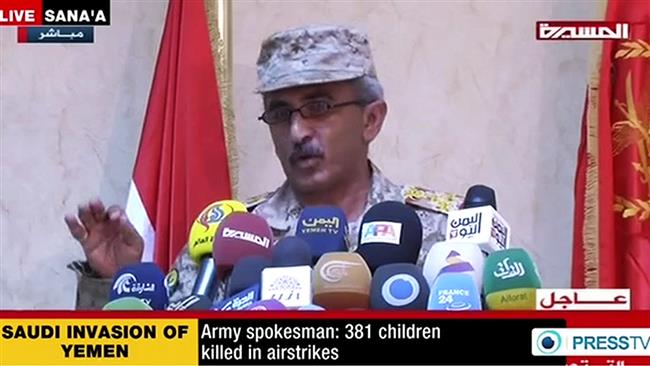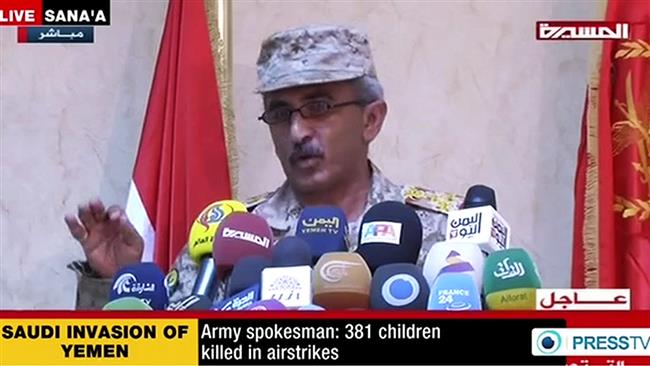 Saudi Arabia is razing the infrastructure of Yemen to the ground, says Yemen's armed forces and popular committees spokesman as Riyadh keeps pounding its neighbor.
Colonel Sharaf Luqman said in a press conference on Monday that civilians and Yemeni infrastructure have been the target of the Saudi aggression against Yemen, adding, "Saudi Arabia is the international supporter of terrorism."
A lot of governmental buildings, schools, shops, gas stations, markets, stadiums and mosques have been destroyed in the Saudi attacks, the spokesman added, describing the Saudi brutalities in Yemen as "war crimes".
Yemenis stand on April 12, 2015 at the compound of Sanaa's al-Yarmuk football club, which was hit by a Saudi air strike the previous day in the Yemeni capital's northern al-Rawda district. (AFP Photo)
In excess of 2500 civilians have been killed in the Saudi aggression, the spokesman said, adding Saudi air raids are hitting residential buildings.
Saudi Arabia is "targeting everything" in Yemen, Luqman added.
"Saudi Arabia is hiring foreign armies and its troops cannot dare to fight Yemenis," the army spokesman added.
He also said that the Yemeni people will strongly respond to the Saudi aggression.
The remarks by the spokesman come as the Saudi offensive enters its 19th consecutive day.
According to the Arabic-language al-Masirah satellite television network, at least 12 people were killed as Saudi warplanes targeted a stadium and residential areas in southwestern city of Ibb early on Monday.
Saudi planes also targeted Yemen's northwestern province of Sa'ada, which is a stronghold of Yemeni revolutionaries, and the Sarwah countryside hospital in the city of Ma'rib, located about 120 kilometers (74 miles) east of the capital Sana'a.
Raids also claimed over a dozen lives in the southwestern Taizz province and parts of Amran province.
According to the Saudi military, helicopter gunships have been deployed near the border with Yemen following the deaths of three Saudi soldiers during clashes with Yemeni forces on Friday.
Saudi Arabia's air campaign against Yemen started on March 26 without a UN mandate in a bid to restore power to Yemen's former fugitive president, Abd Rabbuh Mansur Hadi, a close ally of Riyadh.