North America
Inhuman zionist Trump allows US troops at border to use lethal force against immigrants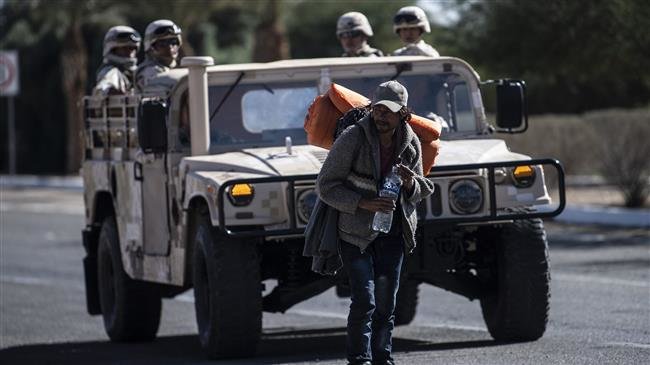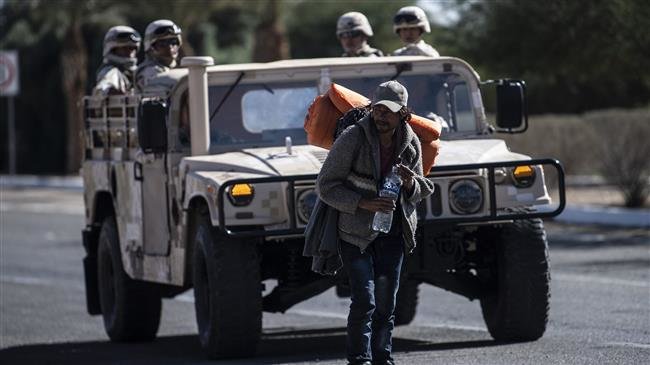 US President Donald Trump has authorized troops on the Southwest border with Mexico to use lethal force in order to protect Customs and Border Protection personnel from incoming migrants, according to the Pentagon.
Department of Defense spokesperson Lt. Col. Michelle Baldanza confirmed to CNN that earlier reports about the White House memo were correct and the Pentagon was now allowed to carry out operations such as "crowd control, temporary detention and cursory search."
A leaked copy of the document showed that the troops were free to resort to "a show or use of force (including lethal force, where necessary)" in order to fulfill those tasks.
Referring to "credible evidence and intelligence," the document warns that migrant caravans originating from Central America "may prompt incidents of violence and disorder that could threaten US Customs and Border personnel" as the reason for the decision.
Trump has sent thousands of active duty troops to the border with Mexico in order to repel a massive immigrant caravan that is making its way through Mexico and is weeks away from reaching the US border.
Some argue that active duty troops are barred from detaining and searching people on US soil, something prohibited under the Posse Comitatus Act because such activities are tantamount to law enforcement.
However, the memo, signed by White House Chief of Staff John Kelly, states that the troops "shall not, without further direction from the President, conduct traditional civilian law enforcement activities, such as arrest, search, and seizure."
US Secretary of Defense James Mattis toned down concerns about violence at the border, claiming that the military would only act in defense of border patrol.
"On detention we do not have arrest authority, detention — I would put it in terms of minutes, in other words if someone's beating on a border patrolman and if we were in a position to have to do something about it we could stop them from beating on them and take them over and deliver them to a border patrolman who would then arrest them for it," Mattis told reporters at the Pentagon Wednesday.
"There's no violation of Posse Comitatus, there's no violation here at all we're not going to arrest or anything else," he added.
The memo is addressed to Mattis, Acting Attorney General Matthew Whitaker and Secretary of Homeland Security Kirstjen Nielsen.
US federal judge blocks the Trump administration's asylum ban for migrants who enter the US illegally.
Nielsen warned at a speech along the border earlier this week that more than 9,000 migrants from two different caravans were going to attempt to enter the US.
"The crisis is real, and it is just on the other side of this wall," she said pointing to protective fences and barbed wires installed to deny the migrants illegal entrance.
Mattis noted that "there has been no call for any lethal force from DHS," and the military troops would not be carrying firearms but could be equipped with shields and batons.
The Pentagon says the Pentagon border mission will cost taxpayers approximately $72 million. Mattis said the cost was likely to increase as the mission was likely to be extended.
Trump has said he will deploy as many as 15,000 troops.