Egypt
Interior ministry tightens security around Tahrir ahead of demonstrations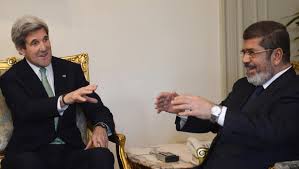 The Ministry of Interior has tightened security around the parliament, the interior ministry, and Egypt's cabinet headquarters in anticipation of demonstrations against President Mohamed Morsi on Sunday.
According to the state's news agency MENA, roughly 35 central security vehicles, six armed vehicles, and four fire engines have been deployed in the vicinity of Tahrir Square to protect these institutions.
Metal barriers supported by barbed wire were placed along side streets around Tahrir. The metal barriers will be employed only if protests escalate or if the safety of these institutions is jeopardized.
Mohamed Mahmoud Street, where the Ministry of Interior is located, has witnessed a number of battles between police and protestors in the past. Most notable was a five day battle in 2011 that left 47 dead and hundreds injured.
The signature-drive 'Rebel' campaign has organised mass protests in front of the presidential palace for Sunday. However, thousands are also gathering in Tahrir Square, demanding President Morsi's resignation and early presidential elections.