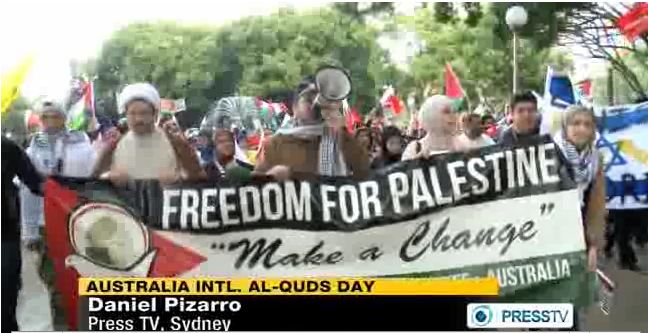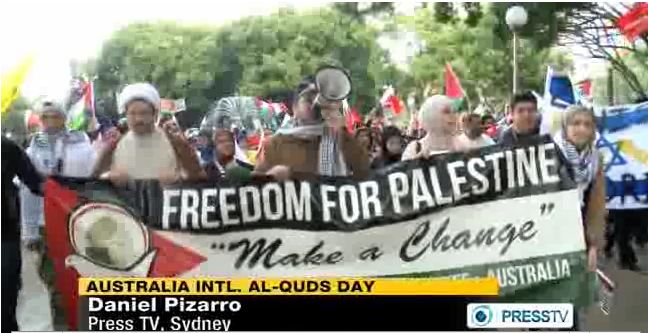 People gathered in Hyde Park in Sydney's Central Business District. Then while chanting anti-US and anti-Israeli slogans, marched to the US Consulate in Martin Place.
It's the first time in its 33-year history, that a rally for International Al-Quds Day was held in Australia.
The Speakers at the rally expressed their solidarity for Palestine as well as other oppressed people in Bahrain, Saudi Arabia and Burma.
The demonstrators accuse Israel of creating a humanitarian disaster in Palestine by denying essential supplies, as well as the Israeli Defence Force killing innocent Palestinians and creating an Apartheid system.
Earlier in the week, the Australian Zionist community voiced their opposition to the staging of the Hyde Park Rally, allegedly partly due to a video showing comparisons made between Israel and Nazi Germany on the Australian Al-Quds Youtube Channel.
But the organisers say the video was taken out of context and protest was a peaceful demonstration against the Israeli occupation of Palestine, with no ill intent towards any Jewish people.
The protesters also slammed the Australian Government for supporting Israel, saying the administration is committing crimes against humanity and should be regarded as a terrorist regime.
They also rejected the U.S backed two-state solution, arguing that innocent Palestinians were forced off their land when Israel was declared in 1948, and they should have the right to return.
The situation in Palestine continues to grow ever dire, particularly in the Gaza Strip, with observers saying a full humanitarian crisis could develop there due to shortages of fresh water and heath supplies.