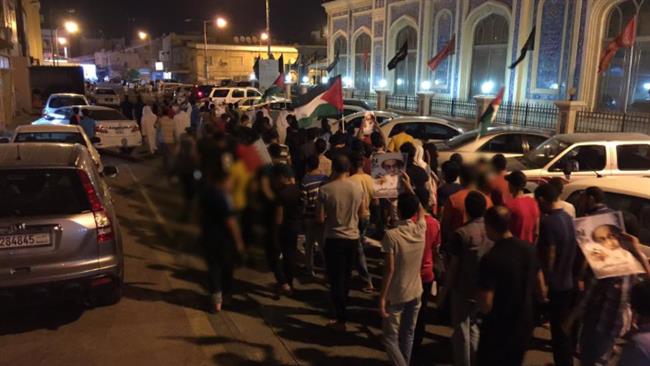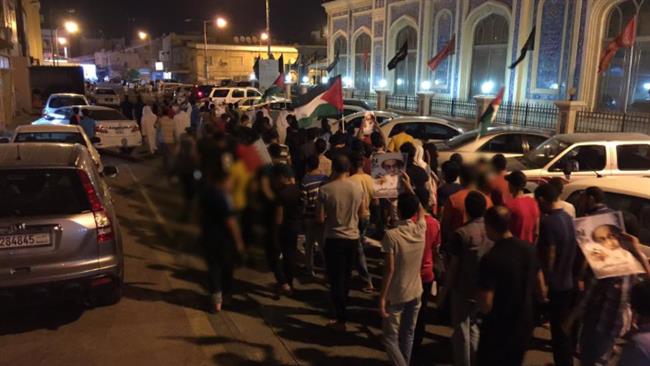 People have taken to the streets across Bahrain on the International Quds Day to voice support for the Palestinian cause.
The demonstrators marched in various neighborhoods of the capital, Manama, on Friday, under the motto of "Revolutionaries' Objective," waving Palestinian flags and shouting anti-Israeli slogans.
They also chanted slogans in condemnation of the ruling Al Khalifah regime and its staunch regional supporter, the Al Saud dynasty of Saudi Arabia.
Similar rallies were also staged in the Wadyan Village of the island of Sitra, Nuwaidrat Village close to Sitra, the northern village of Abu Saiba located west of Manama as well as al-Musalla Village on the western outskirts of the capital.
The International Quds Day is marked annually on the last Friday of the Muslim fasting month of Ramadan as designated by the late founder of the Islamic Republic, Imam Khomeini.
Each year, millions of people around the world stage rallies on the day to voice their support for the Palestinian nation and repeat their call for an end to the Tel Aviv regime's atrocities and occupation of the Palestinian territories.
This comes as the occupied Palestinian territories have been the scene of heightened tensions since August 2015, when Israel imposed restrictions on the entry of Palestinian worshipers into the al-Aqsa Mosque compound in East al-Quds.
More than 220 Palestinians have lost their lives at the hands of Israeli forces since the beginning of last October.