Afghanistan
Asia-Pacific
North America
Invader Great Satan US soldier killed in Afghanistan
A US military officer has been killed in Afghanistan, the NATO military alliance's so-called Resolute Support (RS) mission in the country has announced without spilling more details.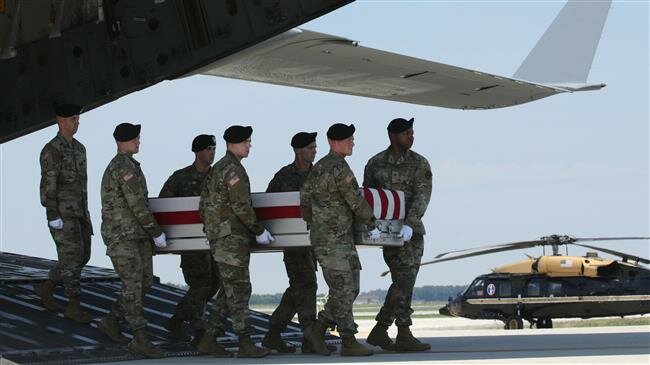 The unnamed soldier's death on Saturday brings the number of US service members killed so far this year in Afghanistan to 10, local press reports said.
Nearly 20,000 foreign troops – most of them Americans – remain in the war-torn nation as part of a US-led NATO mission to purportedly "train, assist and advise" Afghan military forces.
The US and its allies invaded Afghanistan under the guise of the war on terror to topple the very Taliban militants they're now negotiating with. Some 18 years on, terrorism rages on across the country chiefly by the Taliban, which now control more Afghan territory than at any time since being ousted in 2001.
Some US troops in Afghanistan are engaged in what Washington has described as "counter-terrorism operations" against radical militant groups.
At least 2,300 American forces have also been killed and more than 20,400 wounded in the country during the 18-year war there.
In June, the Pentagon announced the deaths of two Army officers in Afghanistan's Uruzgan province during combat operations.
The attacks come as the United States continues to negotiate a peace deal with the leading perpetrator of terror attacks across Afghanistan, the Taliban militant group, which targets mostly Afghan civilians and security forces.
Last week, US special envoy to the "peace talks" with the Taliban militants Zalmay Khalilzad described the latest round of the negotiations held in the Persian Gulf state of Qatar as the "most productive session."
"There is still important work left to be done before we have an agreement," Khalilzad wrote in a Twitter message last Saturday, further claiming that substantive progress had been made on all parts of a peace deal.
The Afghan-born US diplomat, who has been negotiating since last year with the radical militant group, intends to secure a political settlement with the Taliban, which have recently intensified their attacks in capital Kabul and elsewhere in the nation.
The two sides want to forge a plan for the withdrawal of the US-led foreign military forces in exchange for guarantees by the Taliban that they will not use Afghanistan as a base for launching attacks on the US and its allies.
Earlier in July, US President Donald Trump vowed during an interview with Fox News to maintain a "very strong intelligence" presence in Afghanistan, while repeating earlier claims that he intended to withdraw American troops from the terror-ravaged country.
"We will be leaving very strong intelligence, far more than you would normally think," Trump said, calling Afghanistan "the Harvard of terrorists."
Last Saturday, a car bomb attack by a Taliban militant killed at least a dozen people, including security forces and civilians, in the country's central province of Ghazni. Authorities said the blast left eight security forces and four civilians dead, while leaving more than 50 more injured.
Taliban bombing kills 12, injures 50 in central AfghanistanThe Taliban militant group has killed at least eight Afghan security forces and four civilians in a car bomb attack in the country's central province of Ghazni.
On July 1, nearly 100 people, including dozens of children, were wounded in a similar Taliban bomb attack in Kabul, which was followed by gunmen battling Special Forces in an area housing military and government buildings.
A record 3,804 Afghan civilians were killed only last year due to stepped-up air attacks by US-led forces and more terrorist bombings, according to a February report released by the United Nations.