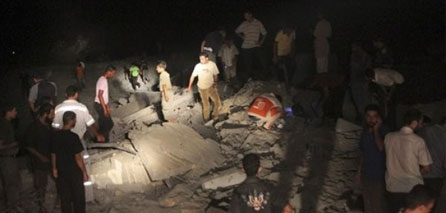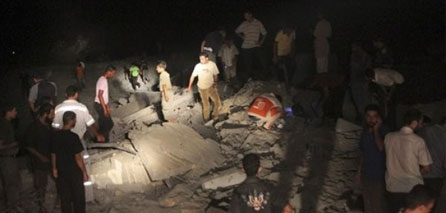 Israeli occupation forces (IOF) used artillery to shell Palestinian houses east of Abasan to the east of Khan Younis, south of the Gaza Strip, on Tuesday.
He added that the IOF pounding did not cause human casualties but only material damage as most shelled houses were deserted after being partially destroyed by the IOF in its last war on Gaza.
In the meantime, IOF troops aboard armored vehicles and under cover of army choppers advanced into Farahin area also east of Khan Younis on Tuesday, local sources reported, adding that the soldiers fired at citizens' homes and anything moving in their vicinity while tractors bulldozed cultivated lands.
An IOF spokesman on Tuesday said that two of his soldiers were lightly wounded on Tuesday when a mortar shell fired from Gaza slammed next to them.
A Palestinian resistance fighter was killed last night in an exchange of fire with an IOF unit that ventured into east of Khan Younis.
A Palestinian source said that the fighter was affiliated with the armed wing of the Islamic Jihad movement.
An IOF spokesman said that a military patrol detected two Palestinians while planting explosives near the border fence and fired at them.
In the West Bank, IOF soldiers detained eight Palestinians in their routine raids on West Bank towns and cities. Citizens complain that the soldiers do not pay any attention to the sanctity of the holy Islamic fasting month of Ramadan and storm Palestinian homes at dawn when Muslims start to observe fasting.
An IOF spokesman said that 17 Palestinians workers were arrested on Monday for heading to their jobs in 1948 occupied land without permits.
Labor sources pointed out that the IOF rounded up 200 workers since the start of Ramadan almost a week ago.